Does Ellie have the winning formula?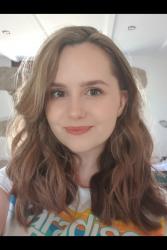 Ellie FrostElectonic Engineering student Ellie Frost is heading for Silverstone tomorrow (20 July) for the experience of a lifetime, as she attends an exclusive event at Silverstone with Santander executives and prominent figures from motorsport.
Twenty year old Ellie who is currently studying an Electronic Engineering degree at Bangor University, is one of the students nominated for the Santander Universities Women in Engineering Scholarship Programme.
If selected, Ellie will be one of 30 students in the UK to enrol on a two-year programme of dedicated support for female engineers, with the objective of providing the students with the tools and resources that they will need to succeed after university.
As well as for her enthusiasm for engineering, Ellie, from Hornby, Lancaster, and a former pupil of Kirkham Grammar School chose Bangor because of the immense choice of outdoor activities.
She says of her chosen subject: "I love knowing how things work and I hope in the future to work on creating a sustainable future in renewable energies."

As a Santander Universities partner, Bangor is able to nominate students for the Scheme. Santander Universities are aiming to help drive a fair, diverse, sustainable and transformative educational landscape within the UK. They recognise the challenges currently facing the UK's engineering industry, in particular the challenges faced by female engineering students, which is why they have created the Women in Engineering Programme.
Publication date: 19 July 2019