Doors open to Bangor University's Main Building
T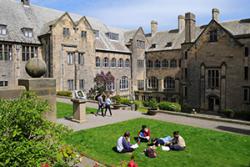 here will be an opportunity for the public to have an overview of the history of Bangor University's Main Arts Building as a part of the Open Doors events on Saturday 14 September 2019.
The Open Doors event gives the public the opportunity to have a look at some of Gwynedd and Conwy's historical buildings, gardens and interesting and unusual locations all for free throughout September.
The Main University Building is a striking grade 1 listed building opened in 1911. It has a rich history and impressive architectural features. Join a guided tour of Bangor University's Main University Building led by David Roberts, the former registrar of the University talking on ' "A Lasting Monument" : the design and history of the University's Main Building'. This will be an opportunity to learn more about the background of establishing the building and to understand more about its architectural features.
The guided tour will start from the foyer of the Main Building at 11.00am-12pm. If you are interested in attending booking in advance is necessary. You can do this by telephoning 01248 353368 or emailing storiel@gwynedd.llyw.cymru
For more information about other Open Doors events across North Wales throughout September, visit cadw.gov.wales/open-doors
Publication date: 6 September 2019