Dotty about Dot!
A Bangor University student's music video heads for viral fame; at the time of writing, 'Everybody Dances to Techno' by Dot has had over 43,953 views on YouTube, with comments and messages of support from far afield.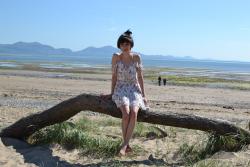 Singer-songwriter Dot, 18, from New Delhi, India, on gaining fans on YouTube said: "I guess I never realized how vast the internet really is. I feel incredibly blown away at the reaction I've received in these past few months and I'm glad I get to share my music with people from across the country."
The first year Music and Creative Writing student explains: "I've always loved writing. My school encouraged creativity and music and I remember singing a lot of covers with my friends, but really it all started for me when I wrote my first song at 13. After that it's been a continuous process of writing, loving the new composition, playing it a bunch of times for other people, getting bored of it and writing new songs. I have grown in and out of different styles but I think the one thing that I try to do most is find interesting ways to integrate poetry with sound. I love playing with syllables and phonemes in odd ways."
Pwyll ap Siôn, Professor of Composition at the School of Music said: "Dot's charming, nostalgic evocation of music hall in 'Everybody Dances to Techno' is an excellent example of the fantastic talent and creativity that Bangor University attracts amongst its music students. It follows on from the success and popularity of Portugal's Salvador Sobral in this year's Eurovision Song Contest, which also referenced an older, 'classic' popular style to great effect. If, like Australia, India was represented on the Eurovision stage – and Dot represented their song – I'm sure she'd win hands down!"
On choosing to study at Bangor University, Dot said: "Bangor's music course sounded especially appealing because of its open nature and the university's emphasis on a well-rounded education. I think doing Creative Writing as well helps enrich my music in a way that a purely musical degree could not have. The beautiful mountains and sea-side are just the icing on the cake!"
About Bangor, she added: "I'm an active member of the Bangor Live Music Society (LIMUSOC) where I help run open mic nights at the Belle Vue as well as participate in them. Additionally, I ran a drum circle there with close friends using many instruments made out of recycled materials like shells and stones.
"The highlight of my first year at Bangor would definitely have to be my friends. I have never felt so welcome into a community and met so many people with the same interests as me. I've also loved going on trips and long bicycle rides when the weather is nice!"
Dot's hopes for the future are to continue gigging and writing music, but also study a Master's degree.
Publication date: 13 June 2017