DR Congo Chargé d'Affaires visits University archives
A delegation from the Democratic Republic of Congo's UK Embassy visited Bangor University recently. The group included the Embassy's Chargé d'Affaires, Madame Marie-Louise Kafenge Nanga, who was keen to explore contents of the University Archives and Special Collections relating to the Reverend William Hughes, founder of the Congo Training Institute at Colwyn Bay.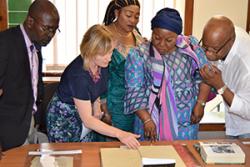 Madame Marie-Louise Kafenge Nanga and members of her delegation at the University's archivesThe Reverend William Hughes was born in 1856 at Rhoslan, Eifionydd and, following a period of missionary work in Africa, set up the Congo Training Institute at Colwyn Bay in 1885. As Hughes himself states in his book, Dark Africa and the way out; or, A scheme for civilizing and evangelizing the dark continent (1892): 'The Congo Training Institute was established with the view of training African young men in this country, in the hope that many of them will return to their native land either as missionaries, schoolmasters or useful handicraftsmen – such as carpenters, blacksmiths, masons, bricklayers, wheelwrights, tailors etc.'
After getting into substantial debts and dogged by a scandal in the unenlightened press of the day, the Institute closed its doors in 1911.
Elen Simpson, Head of the University's Archives and Special Collections, said:
'We have numerous documents relating to the Reverend William Hughes and the Congo Training Institute in our archive, including annual reports detailing the 'training' given to 'the Congo boys' and the support that the Institute received by various individuals during its heyday. It was a pleasure and honour to be able to show these to Madame Kafenge Nanga and her delegation.'
William Hughes and his Institute remain largely unknown in the Democratic Republic of Congo and the visit was facilitated by Newport-based Congolese writer and poet, Norbert Mbu-Mputu, who is seeking to re-evaluate the historical relationships between Wales and Congo as part of a project backed by the Heritage Lottery Fund.
Publication date: 4 July 2016