Dr Edward Jones discusses Welsh economic issues on BBC Cymru
Dr Edward Jones recently gave two interviews to BBC Cymru on current economic and finance issues.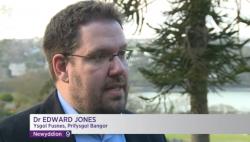 Dr Edward Jones recently appeared on BBC Cymru
He was invited by BBC Cymru to discuss the idea proposed by Lord Morris of Aberavon that there is a need for economic policy specifically for Rural Wales. This proposal was made following another wave of bank and Post Office closures in rural areas and further cuts to Councils where the majority of people live in the countryside. During his interview, Dr Edward Jones spoke about the ongoing trend of bank branch closures in Wales and the impact this had on local businesses and the economy.
Following the announcement of the Welsh Government refusal to underwrite Aviva's £357m investment in the Circuit of Wales project, Dr Edward Jones was asked by BBC Cymru to give an opinion on the financial structure and feasibility of the venture. The development of this cutting-edge motor racing circuit in South Wales would have created 6,000 long-term jobs along with an automotive-focused business park to support the work of Austin Martin and TVR in the area. Dr Jones also discussed current investors sentiment towards the leisure and hospitality sector during his interview.
Publication date: 11 April 2016