Dr Emily Cross to get on her soapbox for science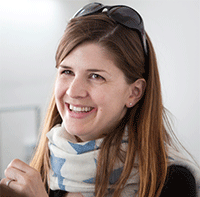 Dr Emily Cross of Bangor University's School of Psychology is one of 12 exceptional women scientists selected to bring science directly to the public. On 5th July, London's Southbank will be transformed into an arena for public learning and scientific debate. The event by Soapbox Science, organised by the Zoological Society of London (ZSL) and L'Oréal-UNESCO For Women in Science, enables some of the UK's most prominent female scientists to bring science out of the laboratory and onto the streets.
Emily was selected by persuading the judges why she, among the UK's women in Science, Technology, Engineering and Mathematics, would be good at bringing her approach to science to the public.
Dr Emily Cross' research concerns how our brains are shaped by experience and expertise when we learn complex new actions or skills, such as dancing, rock climbing, or tying knots. She hopes to convey her enthusiasm for how spectacularly plastic, adaptable and changeable the brain is by bringing her neuroimaging research to life in unconventional ways – and, as a trained dancer, she may just rely on some dancing skills to illustrate her 'Soapbox' session.
She said:
"I'm extremely excited to participate in this summer's Soapbox Science event, as it is such a different and challenging way of reaching out to the public to share not only my research findings, but also why the research process is so fascinating and worthy of interest and dialogue, no matter what your background!"
She will be taking part alongside Prof Laura Piddock (Birmingham University), Dr Cath Waller (University of Hull), Dr Sally Day (University College London), Dr Sabrina Maniscalco (Heriot Watt University), Prof Jane Hill (University of York), Jassel Majevadia (Imperial College London), Julie Dunne (University of Bristol), Dr Zoe Schnepp (University of Birmingham), Prof Hilary Lappin-Scott (University of Swansea), Dr Maria Ocampo-Hafalla (Cancer Research UK – London Research Institute), and Dr Maria Vigliotti (Imperial College London).
Previous events have attracted significant media and scientific attention with coverage by the BBC, The Guardian, The Telegraph, New Scientist, Nature and Science. Full details of all the speakers and topics will be announced shortly on their website http://soapboxscience.org/
Publication date: 23 May 2013