Dr Hayley Roberts appointed as Royal Commissioner
Bangor Law School is delighted to announce that Dr Hayley Roberts has been appointed as a Royal Commissioner for the Royal Commission on the Ancient and Historical Monuments of Wales. Commissioners are appointed by HM The Queen, on the advice of the Welsh Government and the Secretary of State for Wales, under a Royal Warrant.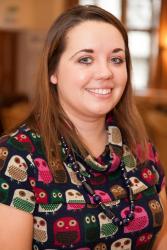 Dr Roberts is a Lecturer in Public International Law at the School, specialising in the law of the sea and particularly underwater cultural heritage. Dr Roberts said: "I am delighted to have been appointed as a Commissioner and look forward to working with the Commission in prioritising Wales' rich maritime heritage. This heritage is a key resource to understanding our past and telling the stories of our connections with the sea, so I am very passionate about our engagement with this aspect of the historic environment."
Welcoming Dr Roberts' appointment, Bangor University's Head of Law School, Professor Dermot Cahill added: "Hayley's appointment reflects the depth of expertise here at Bangor Law School and she will be of invaluable service to the work of the Royal Commission. Hayley's expertise in maritime heritage started when she undertook her Doctorate here in Bangor Law School, and over the intervening years she has become recognised as an authority in her field. We are delighted to hear news of her appointment and wish her great success in continuing to the work of the Royal Commission."
The Royal Commission on the Ancient and Historical Monuments of Wales has a leading national role in developing and promoting understanding of the archaeological, built and maritime heritage of Wales, as the originator, curator and supplier of authoritative information for individual, corporate and governmental decision makers, researchers, and the general public.
The landscape and built heritage of Wales result from people's interaction with the natural world over thousands of years. Since it was established in 1908, the Royal Commission has led the way in researching and explaining the remains of that interaction – the archaeology and the historic buildings we see around us.
The Royal Commission is based in Aberystwyth and is sponsored by the Welsh Government. The Chairman and Commissioners direct the investigations by our expert staff, who employ the latest technology to provide authoritative and up to date information to the public.
Publication date: 4 April 2019