Dr Marcel Stoetzler on Erasmus exchange to Free University Berlin
Dr Marcel Stoetzler visited the Free University Berlin during July on an Erasmus exchange. He contributed to undergraduate and postgraduate teaching in social theory and took part in a symposium on 'Antisemitism and the Constitution of Sociology'. A full report of his enjoyable and educational trip follows…
"I travelled to Berlin on July 2 using environmentally sustainable transport, the train, in a stylish and enjoyable 15h trip: whizz down to London Euston, quick walk to the awesome St. Pancras station (breathing in some of that famous big city air – always a shock to the system when coming from Bangor), the Eurostar to Brussels, quick coffee and some urgent shopping (chocolate of course and other victuals for the second half of the journey), then getting on a very comfortable train to Cologne, quick walk round the cathedral and a regretful look through the windows of the wonderful modern art museum just behind it (Museum Ludwig), and a final train to futuristic Berlin Main Train Station, nice and central to reach my lodgings for the week in the immigrant and hipster neighbourhood of Neukölln; exhausted but happy to have avoided airports once more (an architectural form purposely designed to make humans feel small, vulnerable, irrelevant and sick). The Freie Universität (FU) is located in the leafy and genteel southern Berlin suburb of Dahlem, something like half an hour's journey from central Berlin on public transport. Although the Free University itself was founded only in 1948, Dahlem had been designed decades earlier as a garden-like university campus and houses several top-notch research institutions apart from the FU. (In case you were wondering, it is called 'Free' not as in 'free of charge' but as in 'free market' or, 'not state socialism': the FU Berlin was founded in the immediate post-World War II period, the 'Cold War', when the grand old university of Berlin, Humboldt, found itself on the other side of The Wall.) When most of Berlin feels a bit like a blend of Hackney, Moss Side, Moscow, Washington DC and Maesgeirchen, Dahlem is a bit like Cambridge with all the medieval stuff replaced by some rather good modernist architecture (the horizontal, 'prairie style' rather than the steel-and-glass high-rise variety). A good place for some serious studying.
On Monday I said hello to the ever delight- and helpful Dr Zsófia Ignácz, the FU Social Sciences Erasmus official, and had lunch in a rooftop canteen somewhere nearby with some fifteen of the researchers, post-docs and lecturers who make a point of breaking the bread every day (every day?) in one of several staff and student canteens. (Yes, German universities have canteens where large crowds of people can have lunch rather cheaply and quickly – another reason to do an Erasmus exchange, as long as it is still possible. They also do Kaffee und Kuchen, although that is best had at the campus branch of the unbeatable Aux Delices Normands bakery. Most exquisite.) My first assignment was in Prof. Irmela Gorges' afternoon module on 'Bureaucracy'. Irmela had visited us in Bangor a couple of years ago for an Erasmus trip. The students in this module were so well prepared (imagine: they had read the text!) that I did not even get to look at my carefully prepared lecture notes on 'Zygmunt Bauman on bureaucracy and the Holocaust'. We had a three hour loosely structured discussion, and it was quite difficult to convince them it was time to go home when dangerously low caffeine levels told me it clearly was.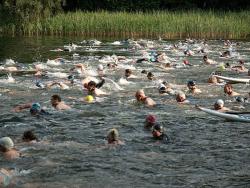 Staff and students at their traditional lunchtime swim in lake Krumme Lanke, a short stroll from the Free University Berlin campus
Tuesday I moonlighted at another Berlin institution, the Technische Universität, or Berlin Institute of Technology at the opposite end of town. Although it is primarily an engineering school (the hint is in the name), before recent modernizing restructuring it used to have a formidable programme in the humanities, of which its Centre for Antisemitism Research is a surviving megalith. I took part there in a symposium on a subject on which I happen to have edited a book a while ago, Antisemitism and the Constitution of Sociology – a bit like a belated book launch – which was very well attended by students and researchers of the Centre, and various other Berliners working in that area. (Berlin is one of the go-to places for antisemitism research, not entirely coincidentally.)
Wednesday I had the honour of giving a talk to the weekly postgraduate research seminar, in which mostly MA and doctoral students (have to) present their work regularly, led by the Director of the sociology institute, Prof. Jürgen Gerhards, a specialist on the sociology of European migration and identity. I treated the assembled to my musings on the theme of 'Critique and Morality' (something along the lines of: what does it mean that the concepts we use to critique society have been produced by that very same society?). I don't think my audience was terribly impressed, but we had a lively discussion mostly on Weber's ideas on 'value freedom'.
On Thursday I gave a talk in the neighbouring Politics department, called the Otto Suhr Institute, a huge institution with a strong tradition also in social theory. I gave a talk to a very large class of undergraduates in a module on 'The Frankfurt School' led by the charismatically bearded Prof. Klaus Roth (whose second name aptly translates as 'red'). I talked about 'The concept of time in Horkheimer's and Adorno's Dialectic of Enlightenment', and a jolly good time it was. Students clearly knew their Onions, and gave me a good run for my money, especially concerning my strange suggestion that the most radical aspect of Dialectic of Enlightenment is its anthropological dimension… wait for the expanded version soon to be published!
All in all, another wonderful Erasmus trip, the greatness of Bangor University (and its environs) mentioned frequently, downloads on academia.edu noticeably increased – let's hope for many more of those."
Publication date: 6 September 2016