Dr Prysor Williams receives Award for his outstanding contribution to science through the medium of Welsh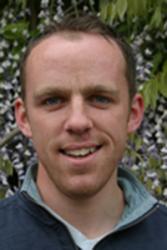 Dr Prysor WilliamsIn a special celebration of Welsh medium higher education, a young Academic from Bangor University was recognised for his outstanding contribution to the field of science through the medium of Welsh.
Dr Prysor Williams, Senior Lecturer in Environmental Management at the School of Environment, Natural Resources & Geography, received the Gwobr Goffa Eilir Hedd Morgan (Eilir Hedd Morgan Memorial Prize) in the Coleg's Annual Congregation in Swansea last night (Wednesday 8th of March 2017).
This Award is presented every year to recognise outstanding contribution in research and teaching in the field of science through the medium of Welsh.
The Coleg established this award in memory of Dr Eilir Hedd Morgan, a lecturer who was sponsored by the Coleg and worked in the School of Ocean Sciences, Bangor University whose sudden death in 2013 was a huge loss.
Prysor is a well-respected lecturer with students in the field of environmental management. His research interests are wide ranging and cover soil science, pathogens, nutrient management, water quality, livestock diseases, sustainable intensification in agriculture and animal by-products.
Dr Hefin Jones, Coleg Cymraeg Cenedlaethol Dean, said:
Prysor believes strongly in communicating science to a wide audience beyond the academic sphere and he brings science alive to such audiences."
"It is particularly appropriate that Prysor is receiving this award this year when one considers that Prysor was a close friend to Eilir."
Three prominent scholars received Fellowships from the Coleg during its Annual Congregation in recognition of their vital contributions to Welsh medium higher education over the years. Prof Brynley F. Roberts, Prof Merfyn Jones and Dr Sian Wyn Siencyn.
Publication date: 9 March 2017