Dr Wei Shi attends international Confucius Institute conference
Dr Wei Shi, Reader in Law, recently attended an international Confucius Institute conference in China.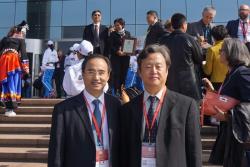 Dr Wei Shi (right) with Professor Jin Huang, President of CUPL
The 11th Confucius Institute Conference, organised by the Confucius Headquarters in Beijing, was held in Kunming on 11 and 12 December 2016. This is the biggest annual event for Confucius Institutes across the world, and it was attended by university Vice-Chancellors, Confucius Institute representatives and ambassadors from 140 countries.
In 2012, the China University of Political Science and Law (CUPL), in collaboration with Bangor University, established a Confucius Institute at Bangor – the first in the world with a legal focus.
Publication date: 9 January 2017