Dr Yvonne McDermott Rees shortlisted for 2016 Law Teacher of the Year
Dr Yvonne McDermott Rees, Senior Lecturer in Law at Bangor University, has been named as one of the six finalists for the 2016 Law Teacher of the Year Award. The prestigious national teaching award, which is sponsored by Oxford University Press, is aimed at celebrating excellent Law teaching and recognising the vital role played by teachers in building the lawyers of tomorrow.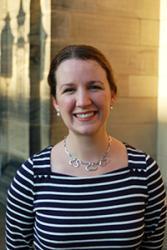 Dr Yvonne McDermott Rees has reached the shortlist of the OUP Law Teacher of the Year Award 2016
Yvonne, who was awarded a University Teaching Fellowship in 2014 and appointed Academic Fellow of the Inner Temple in recognition of her 'outstanding contribution to legal teaching and research', will now join finalists from across the country in the rigorous second stage of the judging process, involving campus observations and interviews with students and colleagues.
As part of the judging process, each of the shortlisted candidates will have to demonstrate their active interest in and development of approaches to teaching that influence, motivate and inspire students to learn; a commitment to supporting the development of their students as individuals; effective and engaging communication; and an involvement in scholarly activities that influence and enhance the learning of students and colleagues alike.
"I am truly honoured that my students and colleagues have nominated me for this award, and I am delighted to have been shortlisted", said Yvonne. "Bangor University champions excellence in teaching, and this is reflected in our outstanding National Student Survey results.
"On a personal note, one of the biggest joys in my life is seeing my students succeed in their degrees and progress in their careers, and I feel privileged to be able to play a small part in these individual successes."
Welcoming the nomination – the third in as many years for Bangor Law School staff – Professor Dermot Cahill, Head of School, commented: "It's not by accident that our lecturers have made it to the final of this competition for the third year in a row. Dr Ama Eyo was shortlisted last year, and Dr Sarah Nason in 2014. Our brilliant academics are at the top of their game, excelling in teaching and legal research, and encouraging our students to love the study of Law and to be inspired by it.
"This is a great competition, as it recognises excellence in law teaching, and seeks to recognise the very best – these are the values that drive our academic staff to go the extra mile for their students. Bangor University Law students are really lucky to have such a dedicated lecturer as Yvonne.
"We will all be rooting for Yvonne as she now competes with the other five finalists from around the UK. My thanks to students and colleagues who supported her nomination. We wish her all the very best in the upcoming final".
The winner of the 2016 Law Teacher of the Year will be announced at a one-day teaching event held in Oxford in the summer.
2016 Law Teacher of the Year Award Finalists
Jo Boylan-Kemp, Nottingham Trent University
Steve Evans, University of Leicester
Lucinda Ferguson, University of Oxford
Yvonne McDermott Rees, Bangor University
Jennifer Sloan, Sheffield Hallam University
Lisa Webley, University of Westminster
Publication date: 9 February 2016