Dragon seen in Bangor High Street!
Shoppers in Bangor were shocked yet delighted to see a red dragon parading along its High Street on Saturday, February 9th
As part of Chinese New Year celebrations, the annual Dragon's Parade was held in Bangor on Saturday. Hand made in China, the 14 meters long dragon, together with dancers, drummers and pupils from Our Lady's RC School Bangor paraded from Bangor Cathedral along the High Street to the Town Clock before returning to the Cathedral. The parade was followed by the Chinese Gala Performance within the Cathedral where a variety of performances were staged, including Chinese songs and instrumental pieces, various Chinese traditional dancing and a performance by the Bangor Taekwondo group.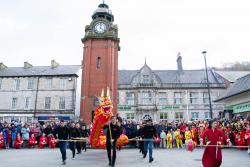 The Chinese New Year celebrations were organised again this year by the Confucius Institute at Bangor University. The Institute was established in 2012 and offers a programme of activities and courses designed to provide staff, students and the wider community in North Wales with an understanding of Chinese language and culture, as well as promoting the culture, language and heritage of Wales to the people of China.
Following the celebrations, Our Lady RC School's Headteacher, Kay O'Hanlon said,
"In this era of Donaldson it is very easy as Headteacher to value this experience, for the school, the pupils and the wider community. The involvement of the Confucius Institute offers the school the expertise and resources the schools may not readily have. Our pupils are learning to be Global Citizens- being aware of the world, their role in it and participating in communities at a local and global level. This one celebration, of Chinese New Year, goes a long way in developing these Global Citizens. It inspires, educates and provides both a local and a global community in which they can be a part- all in one celebration, all in our city!"
The Very Reverend Kathy Jones, Dean of Bangor added,
"On behalf of the Dean and Chapter we were delighted to host the Gala again this year. Celebrating with the Chinese community, embracing culture and diversity is so important and extremely enriching."
This year, Chinese New Year (or the Spring Festival) officially began on February 5th and will end on February 19th with the Lantern Festival.
Publication date: 11 February 2019