Drapers' Company Medal awarded to Bangor student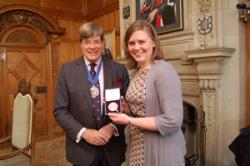 Drapers' Company Medal awarded to Bangor student: Elina Hamilton pictured with Mr Anthony Walker, The Master.On 1 May 2012 Elina Hamilton , a PhD student researching medieval music theory, received the Bronze medal for outstanding postgraduate achievement. This prestigious award is one of only six medals to ever have been awarded. It was issued after being nominated along with 18 other university-wide candidates. A criterion for the award was based on academic achievement and engagement with the academic community both at Bangor University and internationally. Consideration included candidates who have made outstanding academic, cultural or social contribution through scholarship, impact of research, pastoral support and mentoring, assistance with recruitment, helping the university increase its reputation or gaining excellent publicity for Bangor University.
Elina is also a recipient of the 125th Anniversary Research Scholarship at Bangor University. Currently, her PhD research topic examines medieval music theory. Although the content of theoretical treatises are known among musicologists, their actual use within a historical and educational context has never been thoroughly explored. Titled, 'Teaching the Old and New: Didactic Applications of Fourteenth-Century English Music Theory', her primary focus has been on Walter of Evesham's (Walter Odington) De speculatione musica.
Dr Christian Thomas Leitmeir, Elina's supervisor at the School of Music, said:
"I am thrilled that Elina's won this prestigious award, which she deserved on so many counts. Although still a PhD student, she had made significant contributions to scholarship, both through her own research and through the organisation of conferences. Apart from that, she has been a committed teacher, who is equally respected and loved by our students. It is very fitting that the talent of a budding medievalist should be spotted by a charity that has its roots in the Middle Ages."
The Drapers' Company is a medieval London guild and is one of the first twelve livery companies known as The Great Twelve. Today, they are mostly a charitable organisation with close connections to several educational institutions. Bangor University is one of seventeen organisations, including Pembroke College, Cambridge, Queen Mary, University of London and St Anne's College, Oxford, which the company is associated.
For over a hundred years the Company has been linked to [Bangor] University, initially through substantial grants towards the construction of some of the University's main buildings including the library, science laboratories and the electrical engineering department. Today, through The Thomas Howell's Education Fund for North Wales, the Company supports undergraduate and postgraduate students in various departments and faculties, and contributes to a postgraduate hardship fund providing modest support for individuals' living expenses.
(Source: http://www.thedrapers.co.uk/Company/Supporting-Education.aspx#bangoruniversity)
Publication date: 5 September 2012