Duncan Tanner Award 2013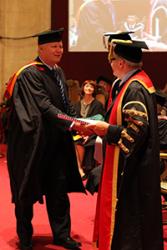 Martin Hanks (left) Martin Andrew Hanks 50, from Penmaenmawr, graduated with an MA in History and also received the Duncan Tanner Award for the Best MA Dissertation, Entitled: Can I Help You? The Early Life of Douglas Houghton.
Born in Caernarfon, Martin is a former pupil of Ysgol Syr Hugh Owen. He left school with little more than five GCE O levels, and after service in the Royal Air Force and Police Service, he set up a business in Wrexham. For the next fifteen years, Martin and his wife ran their company, employing a workforce that fluctuated between 60 and 100. In 2003 they sold the company and Martin and his family returned to this area. By 2008 he was looking for a change in direction and encouraged by his wife, he contacted the School of History, Welsh History and Archaeology here at Bangor. Three years later, Martin graduated with a first class honours degree in History with Archaeology, and then continued immediately into the History MA course.
Delighted to be a prize winner, Martin said: "It is an incredible feeling to have won this prize. I was taken by surprise when the announcement was made. The small group of Modern Historians who I had been studying with were all very talented and hard working. Historians from other historical periods too, had worked very hard on some really interesting projects. Therefore, to achieve this award from within such a group was a real surprise. I met Duncan Tanner during my first year as an undergraduate at Bangor and was studying here when he passed away, so to win this award is an especially poignant and meaningful honour.
About his experience at Bangor, Martin said: "The whole experience of the last four years has been fantastic. The friends I have made, both with other students and with academic staff, have enriched my life. The learning experience is addictive and enjoyable especially at this University; I hope to remain here for a long time to come. This graduation together with my BA graduation are both right up there as highlights of my time at Bangor."
About his future, he said: "I am currently studying for my PhD here, conducting research into 'The impact of wartime immigrants on Welsh Culture and Identity during World War Two'. I hope to complete this course and achieve a position within academia.
Publication date: 23 September 2013