Early research findings show Wales' Child & Adolescent Health falling short of standards
Wales' Child and Adolescent Mental health services fall short of standards according to early research findings (17 November).
The findings were reported at the launch of Observatory@Bangor, the North Wales branch of the Wales Observatory on the Human Rights of Children and Young People, based at Bangor University Law School.
A collaborative project with international, national and local partners, the Observatory provides a forum for research, debate, education and knowledge exchange on human rights of children and young people, working for realisation of human rights through policy, practice, advocacy and law reform. Now with bases at both Swansea and Bangor Universities, the Observatory is to bring together the best in research, theory, practical knowledge and experience to inform public policy, law reform, professional training and practice.
The latest Observatory research, with mental health charities Hafal, Mental Health Foundation, Bipolar UK, and Diverse Cymru is asking how child and adolescent mental health services (CAMHS) in Wales could be improved. This follows the review of CAMHS ordered by Health and Social Services Minister Mark Drakeford last year, after experts said the service was in crisis.
Initial survey findings from over 200 people suggest that three-quarters of CAMHS users have a negative experience of the service. Nearly 75% of CAMHS users said the service they received was slow to respond, and over half felt it didn't keep them safe.
A panel of young people from north Wales with experience of mental health services examined the findings in collaboration with staff linked to the Observatory@Bangor and charity partners as part of the centre's launch. Together, they made recommendations to improve services for the attention of the minister's current review of CAMHS.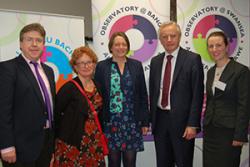 Left-right: Prof Dermot Cahill, Head of the Law School, Prof Jane Williams, Co-Director of Observatory Wales, Prof Sally Holland, the Children's Commissioner for Wales and Dr. Yvonne McDermott Rees of Observatory@Bangor and Bangor Law School at the launchThe Children's Commissioner for Wales, Professor Sally Holland, launched the Observatory@Bangor saying:
"The Observatory has an important role to play in developing our understanding of the practical application of children's rights in Wales. I very much welcome the collaborative approach being developed across academic institutions and beyond. It is important that we bring children's rights to life by monitoring and challenging the way in which we deliver services to our children and young people. I see the Observatory playing an important role in this agenda. I hope I will be able to work with the observatory and draw on its analysis over the 7 year term of my office but also, importantly, it will remain an independent source of analysis and critical reflection in the state of children's rights in Wales, and beyond."
Professor John G Hughes, Vice Chancellor of Bangor University welcomed the new resource at Bangor University saying:
"Bangor Law School's input now makes the Observatory's research genuinely Wales-wide. I'm delighted that colleagues in the Law School are making this vital contribution. This close collaboration can only enhance the impact of their research."
Associate Professor Jane Williams, founding co-Director of the Wales Observatory said:
"This is a fantastic opportunity for both Bangor and Swansea Universities. From now on, the Observatory@Bangor and the Observatory@Swansea, working together across disciplines in our two universities, will be able to be more genuinely Wales–wide in our work on children's rights."
Publication date: 17 November 2015