ECB-funded Sports Science PhD awarded Best in the UK from the British Psychological Society
C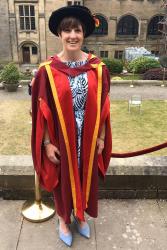 Leonie at her recent PhD Graduation Ceremonyutting-edge PhD research by Leonie Webster has, not only been awarded Best PhD Thesis of 2019 from The British Psychological Society, already directly influenced and enhanced the training of professional coaches in the UK.

The School of Sport Health and Exercise Sciences (SSHES) has forged a highly effective relationship with the England and Wales Cricket Board (ECB) for in excess of a decade. In fact, despite being based in Loughborough, when the ECB want assistance with talent development and psychology related matters, they call Bangor University.

For example, ahead of the 2019 Cricket World Cup, a team of researchers from SSHES helped to optimise, by individualising, mental preparations for the senior England team which eventually won the tournament in the most pressure filled manner possible (via their super over success) thanks to a certain Ben Stokes.

Of course, cricket is not just about big hitting individual players, it is a team sport but until recently, we knew very little about the most important team factors for cricket teams' success.

Fortunately, for Leonie Webster this meant that the ECB funded a PhD examining team factors relevant in professional cricket; supervised by father-son duo, Dr James Hardy and Prof Lew Hardy. During her time as a PhD researcher Leonie also carried out applied work with the women's national development teams. This led to her being head hunted by the RFU to lead psychology support for their senior national team.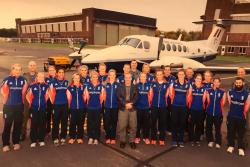 The members of the Women's ECB team that Leonie worked with. Although her research required the unparalleled collection of data from all the county teams in both men's and women's cricket, making use of technical features such as abductive approaches and pattern recognition analysis, it was critical that the scientific findings be fed back to the ECB in a manner that was meaningful to coaches.
The Schools Director of Postgraduate studies, Dr Ross Roberts said:

"The School is really pleased to facilitate an award of this prestige and it helps to reflect quality of the both research and the research training that Leonie completed during her PhD. The fact that the PhD was funded externally by the England and Wales Cricket Board meant the research programme was focused on a particular need they had. For that reason, Leonie's PhD was conducting important real world research to bridge the gap between theory and practice to answer a particular performance related question that they (the ECB) held real interest in understanding. It is of no real surprise that this approach to research give rise to Leonie's PhD thesis being ranked as the Best in the UK by the BPS."
Leonie has continued down her academic career path and is currently working as a Postdoctoral Research Fellow at the University of Southampton investigating teamwork in the military.
Publication date: 4 February 2020