Education Minister visits Schools working in partnership with Bangor University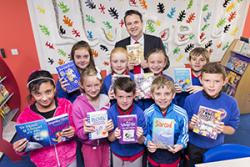 Education Minister Huw Lewis with children from Ysgol yr Hendre, during the official opening of a new community library.Education Minister, Huw Lewis AM, visited three primary schools that have worked in partnership with Bangor University on various projects during the last year today (9 Octobert 2014).
His first visit was Ysgol yr Hendre in Caernarfon where he will officially opened a new community library. The library, which will be run by the school's pupils during break-time, has received funding from Bangor University's Reaching Wider North and Mid Wales Partnership and its Widening Access Centre.
Professor Jerry Hunter from Bangor University, said: "Situated under the same roof as the school and an adjoining community centre, ownership of the library will we taken by the children who will be its immediate users and administrators. This in turn will lead to furthering the relationship between the children, their parents, the teachers and the University. To this end, arrangements are in place for a series of school visits to the University's libraries in 2014/15."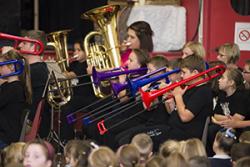 Pupils at Ysgol Maesincla gave Education Minister Huw Lewis a rousing performance.Mr Lewis will then visited Ysgol Maesincla, Caernarfon, where he witnessed the fine results of another project funded by the University, Codi'r To. Based on the internationally-renowned 'El Sistema' programme from South America, Codi'r To is a community regeneration project that uses the power of music as a means of providing real and worthwhile experiences to children, and by doing so, raising their self-confidence and their interaction with the community. Bangor University funding allowed professional tutors to work with Year 5 pupils and give them dynamic tuition on playing brass and percussion instruments.
Prof. Hunter said: "The result of their intensive tuition over a period of two terms has given the children experiences that are second-to-none. As well as providing funding that contributed to the practical elements of the project, Bangor University provided extra funding to carry out academic research in the fields of music and psychology as a means of assessing the project's impact. Following this successful pilot, the University will contribute to a second round in 2014/15, increasing the number of pupils involved and conducting even greater academic assessment of the project's worth."
Ysgol Glancegin Headteacher, Bethan Morris-Jones explains the workshop activities to the Education Minister.Lastly, Mr Lewis visited Ysgol Glancegin in Bangor. There, he joined a group of Year 4 pupils and their parents in a robot-building session using Lego. G2G (Great 2 Good), with University funding, have already conducted similar sessions with pupils during the year and have had notable success in presenting elements on STEM subjects with the help of the little plastic bricks.
Huw Lewis said:
"It was a pleasure to visit widening access and outreach projects under the auspices of Bangor University and Reaching Wider North and Mid Wales Partnership in Caernarfon and Bangor. There was a common theme running through the three projects – the library at Hendre, Codi'r To at Maesincla and the Lego workshops, amongst others, at Glancegin – and that was the interaction between the children, their parents, teachers and University staff and the inspiration which that brought about. Partnerships like these have the potential to change lives and it was wonderful to see the University's expertise benefiting its local community in such ways."
Publication date: 9 October 2014