Effects of Devolution on Welsh Social Policy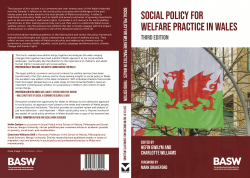 Important Volume about the Effects of Devolution on Welsh Social Policy
It is with great pleasure to announce that a volume co-edited by Dr Hefin Gwilym, a Lecturer in Social Policy at the School of History, Philosophy and Social Sciences, and Charlotte Williams, is being published for the third time: Social Policy for Welfare Practice in Wales (BASW 2021).
The purpose of the volume is to commemorate twenty years of devolved social policy in Wales since the establishment of the Assembly. The volume casts a light on many key events of the last twenty years with regards to Welsh social policy, in addition to considering the possibilities of the next decade. The volume includes chapters that consider several aspect, including health, poverty and social justice. Without doubt, the volume will be of great interest to social policy students in Wales and beyond, and to students of social work, in addition to practitioners in the field of social welfare and care.
In his foreword to the volume, Mark Drakeford, First Minister for Wales, says:
'One of the great things about this edition is that it sees a new generation of Welsh academics writing in this area. There is a handful of survivors from the first two editions, written in a time when the number of people involved in research and writing about social policy in Wales was far smaller. This edition includes contributions from no fewer than 19 different researchers. It is a sign of just how far and how positively the discipline and its subject matter have evolved during the devolution era'.
Publication date: 10 February 2021