Ellie has the winning formula!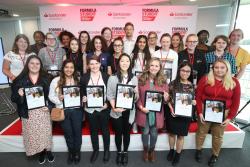 Ellie Frost (third from right, front row) at Silverstone with the other successful engineering students.Electronic Engineering student Ellie Frost is to receive a prestigious and highly valued Engineering Scholarship programme.
Ellie heard the news that she had been accepted on the Santander Universities Women in Engineering Scholarship Programme at a recent event at Silverstone. The successful students were announced by Santander UK's CEO Nathan Bostock and ambassador Jenson Button at the 2019 Formula Student global competition.
The inaugural STEMships programme launched by Santander UK is dedicated to supporting female engineering students at universities across the country. The new initiative aims to support and incentivise more women to embark on a career in the UK engineering industry and responds to the skills shortage challenge currently facing the country's engineering sector.
Twenty-year-old Ellie is one of 30 students in the UK selected.
Reflecting on the weekend's events Ellie said: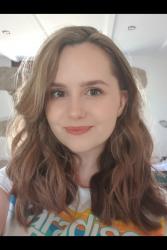 Ellie Frost"The whole event was fantastic and everyone was lovely, it was especially nice to meet lots of other women in engineering and creating a community with everyone there. The connections made were amazing especially the chats I had with leading women in the field such as Nikki Rimmington who is the vice president and chief planning officer at Aston Martin, who sat at our table after lunch.
I think that the opportunities the event gave us will help everyone at the event throughout our careers."
She says of her chosen subject: "I love knowing how things work and I hope in the future to work on creating a sustainable future in renewable energies."

Matt Hutnell, Director of Santander Universities UK commented:
"We're thrilled to be launching our unique STEMships to support and inspire the next generation of women engineers from across the UK. Having worked closely with Formula Student teams across our partner universities, we recognise the challenges facing female engineering students as they look to embark on careers in the industry. We hope the programme will support them with their career ambitions."
Ellie will now benefit from a two-year support programme which offers: a £1,500 scholarship; an overseas experience at a leading engineering institution; unique networking events with prominent female leaders in the industry; membership to the Women's Engineering Society; and mentorship and internship schemes through Santander's wider networks.
As well as her love of engineering, Ellie, from Hornby, Lancaster, and a former pupil of Kirkham Grammar School chose Bangor University for her degree because of the immense choice of outdoor activities.
As a Santander Universities partner, Bangor is able to nominate students for the Scheme.
Publication date: 29 July 2019