Enigmatic Eliseg reveals its secrets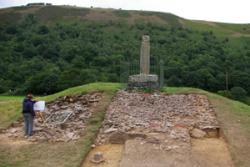 An earlier season's excavations at the Pillar of Eliseg
An Open Afternoon between 2-5 on Saturday 8 September will give the public an opportunity to find more about the third season of excavations at the Pillar of Eliseg, a ninth-century AD stone monument which stands on a prehistoric mound near Valle Crucis Abbey Llangollen, in north-east Wales. Archaeologists from Bangor and Chester Universities are returning to carry out a third season of excavations at the site between 26 August -16 September 2012.
This collaborative research project is using modern archaeological methods to investigate the mound on which the Pillar of Eliseg stands and their setting. Professor Nancy Edwards of Bangor University's School of History, Welsh History & Archaeology said 'The main aim of the project is better to understand this enigmatic monument and how it was used and reused over time'.
The Pillar of Eliseg, originally a tall stone cross, stands on a mound and is still a striking landmark. Now only part of a round shaft survives set within its original base. Almost invisible to today's visitor, the Pillar once bore a long Latin inscription saying that the cross was raised by Concenn, ruler of the kingdom of Powys, who died in AD 854, in memory of his great-grandfather, Eliseg, who had driven Anglo-Saxon invaders out of the area. By the seventeenth century the Pillar was no longer standing, but the damaged inscription was recorded by the famous Welsh antiquary Edward Lhuyd in 1696. The mound was dug into in 1773 by the local land-owner Trevor Lloyd and is reported to have contained a stone cist with a skeleton. He also re-erected the Pillar and this is recorded in a second Latin inscription on the shaft.
During the first season in 2010 excavations focussed on three trenches on the mound. A cairn of stones was revealed which, it is suggested, is an Early Bronze Age kerb cairn with the eighteenth-century antiquarian trench dug into it in Trench A. This trench was the focus of excavations in 2011. The antiquarian disturbance, which had post-medieval pottery sherds in it, was removed. The undisturbed mound in this trench was then partially excavated revealing a likely early medieval long-cist grave in the section as well as evidence suggesting the interment of cremations during the Bronze Age. This will be the focus of the excavation in 2012.
The project is part of works by Cadw to conserve the mound and better explain the monument to the public.
Project Eliseg is co-directed by Professor Nancy Edwards and Dr Gary Robinson of Bangor University and Professor Howard Williams of the University of Chester. There is strong community involvement in partnership with Llangollen Museum. The project is currently funded by The Society of Antiquaries of London, the Prehistoric Society, the Cambrian Archaeological Association, the Institute for Medieval and Early Modern Studies (Bangor and Aberystwyth Universities), Bangor University and the University of Chester.
Visit the project website or view a film about the 2011 excavations.
Publication date: 22 August 2012