Enterprise by Design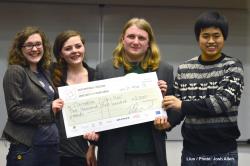 Team CarnationA pilot project developed for the Pontio Centre has seen academics from across Bangor University working with students, enterprise support staff and local business partners. Together they have devised a novel approach to teaching innovation and enterprise, with students learning how to apply technology creatively to meet human needs.
Forty eight Bangor University students have taken part in a competition to win up to £2,500 prize money to see the development of their own innovative product creations ready for market. 'Enterprise by Design' students were challenged to design a product from conception to prototype and to deliver a winning pitch to a judging panel.
'Enterprise by Design', delivered by Pontio Innovation, B.Enterprising and academics from the schools of Electronic Engineering, Product Design, Psychology and Business, involves undergraduate students from across the four specialist subject areas working in multidisciplinary teams. This year's brief was set by DMM International, a Llanberis based company that designs and manufactures climbing, mountaineering and industrial work at height equipment. DMM invited the teams to 'propose a product concept for young climbers'.
The judging panel consisted of David Noddings and Paul Edwards from DMM International; Professor David Shepherd, Deputy Vice Chancellor, Dewi Hughes, Executive Director of Pontio, Phil Nelson, Director of Surf-Lines, and Paola Dyboski-Bryant from Dr Zigs. The panel were also joined by a junior judging panel comprised of five children in the 7-14 year age range.
The winning 'Team Carnation' was awarded £2,500 to develop their concept – Clip N Climb. Their concept is an innovative and fun method which allows children to engage in climbing activities, learn climbing techniques, record their achievements and take the climbing experience home with them.
David Shepherd said: "Enterprise by Design encapsulates everything a modern university education should be about; creativity, linking across the disciplines, creating something out of nothing in effect but also working within disciplines, because the brief defines the constraints of what you can do to design a product that meets the brief. So, I actually think the students that do this probably get more real world experience out of it than 20 hours in any lecture theatre."
Dr Andy Goodman, Director, Pontio Design Studio said: Students learn from an early age that success comes from being able to give correct answers to exam questions. Exams are important, but solving well-defined problems that have standard solutions fails to develop the skills and experience needed to be successful in a complex, ever-changing world. We are exploring ways to create educational experiences that inspire creativity, foster innovation and support subsequent enterprise.
To innovate successfully, complex problems must be explored and solutions not seen by others found. Collaborating within a team of specialists from other disciplines can help ensure that all aspects of a problem are understood, but introduces its own challenges; making sense of the problem, communicating and agreeing a course of action, for example. Meeting these challenges develops skills and provides an experience that inspires confidence while building resilience.
John Jackson, the Bangor Employability Award Manager said: "The benefits that the students can get from this are immense. When job seeking and attending interviews they're going to have to present, utilising the skills they've learnt from here. These include presentation skills, team working skills, commercial awareness and crucially, working with people from other departments. I think Enterprise by Design is a crucial part to the Employability Award from the enterprise and entrepreneurial aspect as well."
Dave Noddings, DMM Product Manager said: "All three winning teams displayed great team work, co-operation, and an understanding of each other's specialities to take on the brief and come up with innovative solutions. Over varying timescales, these concepts could become a commercial reality and in my opinion that is what this programme set out to achieve. It has given the students in academia a glimpse of how industry works and has helped to prepare them better for the future. Team Carnation had very much thought out of the box, made a brilliant presentation, displayed great teamwork and came up with a concept that could be developed and shows good potential."
Thrilled with their win, Team Carnation members said:
"I've had a fantastic experience through this process, I was concerned at one point that it was affecting my studies but so glad that I didn't drop out as the benefits are totally worth the extra effort. This project has made me realise that psychology can play a really important part in business, and something I will look into in the future." Kate Hobson from Haverfordwest, studying Psychology.
"I met some of the best people I have met in a very long time. It's great how all our disciplines has come together to make such a great project. I really think that the best achievement of this design brief is that it brings everyone together to create brand new innovative ideas. This process has made me look at things differently for the future, I can now see how I can interact with other disciplines such as business and psychology rather than those associated with engineering." Mathew Clewlow, from Bangor who studies at the School of Electronic Engineering
Lucy Murphy-Barlow from Anglesey, studying Product Design said: "I've never worked in a team situation like this before, so this experience has been very worthwhile, I've learnt how to project manage effectively. It's been fun and really different. I've met people from different walks of life, with one team member all the way from China, so we learned to overcome language barriers. It's been a really good way to communicate and work together and I can't believe that we've won, it's been well worth the late nights."
Business student, Wan Qiang from China said "It's the most fantastic decision that I've made to come to Bangor and join Team Carnation! I will be telling all my friends about Bangor and how brilliant this experience has been."
Publication date: 13 June 2013