Erin wins the Eisteddfod yr Urdd 2018 Crown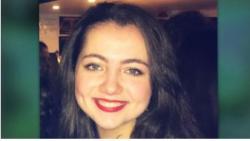 Erin Hughes: Winner of the Urdd Eisteddfod CrownThe winner of the Brecon and Radnorshire Urdd Eisteddfod Crown 2018 is Bangor University student, Erin Hughes from Pen Llŷn. She wins the crown for her prose on the theme 'terrorism', to very high praise from the judges, Catrin Beard and Lleucu Roberts.
Erin, 20, lives in Ceidio, Boduan, near Pwllheli and is one of five children.
Educated at Pont-y-Gôf School, Ysgol Botwnnog and Coleg Merion Dwyfor College, she has just completed her second year at Bangor University, where she is studying Welsh and Sociology.
From the pavilion stage, the judges said: "Finding that exceptional piece is always a thrill, but receiving a piece that is brilliant, excellent, original, mature and of such a high standard is a rare thing, to be treasured. It's a pleasure to say that this is what happened this year."
Unfortunately, Erin could not be present to receive the crown at today's ceremony due to illness. Erin suffers from a rare condition that interferes with the nerves and muscles; a condition called Myasthenia Gravis. In her absence, her crown, given this year by Ysgol Llanfair-y-Muallt school, was presented to Professor Gerwyn Williams, Erin's lecturer, who motivated and inspired her to enter this year.
Naming Aled Jones Williams, Sonia Edwards and Lleucu Roberts as some of her biggest influences, Erin says that she is indebted to her teachers and lecturers for their encouragement over the years.
"I'd like to thank Esyllt Maelor and Rhian Jones in secondary school, and to Delyth Roberts and Bethan Mair at university. I'd also like to thank Professor Gerwyn Williams for his valuable feedback and his willingness to nurture my craft."
She also thanked her family and partner Steffan and his family, who attended the ceremony. The master of ceremony, Elin Havard, said from stage:
"This has been a different ceremony to usual, but the honour remains the same. When Erin's health has improved, the Urdd will be organising another ceremony to honour her. So, warm congratulations to Sioned Erin Hughes, winner of the crown at of the Urdd National Eisteddfod of Brecon and Radnor 2018."
News item via Urdd.
Publication date: 1 June 2018