European Champion Rafter becomes a Doctor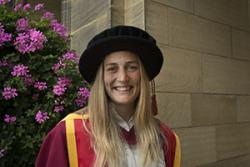 Dr Suzie Jackson.A student who began white water rafting at Bangor University, and has represented Great Britain in the sport, has also just added to her degrees from Bangor University.
Suzie Jackson has achieved a Doctorate in Ocean Sciences (Coastal Oceanography). Twenty-nine year old Suzie, is already lecturing at the University's world-renowned School of Ocean Sciences, and adds the doctorate to her MSc degree in Physical Oceanography and her degree in Marine Biology, all from Bangor University.
Commenting on achieving her Doctorate, Suzie said: "It's very exciting! Finishing my PhD was hard work; it felt like an endurance event at times, so it feels great to be formally celebrating the achievement of finishing my doctoral training as I move into the next phase of my career."
Suzie, of Radcliffe-On-Trent, Nottingham attended Dayncourt School Specialist Sports College in Nottingham before studying at Bangor University.
She says: "I was always interested in sports and the natural world. My family are originally from North Wales so I was keen to come back and get closer to my roots; I was of course also drawn to the fantastic scenery and the opportunity to get into outdoor pursuits. So, I decided to come to Bangor University and study Marine Biology in 2005. My passion for scientific research and the outdoors lead me to stay at Bangor University for my MSc and following that my PhD."
Explaining how she got involved in white water rafting Suzie said: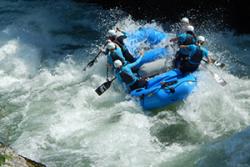 The White Water Rafting team."When I first came to Bangor I joined so many clubs, I simply couldn't fit them all in! After the first semester I concentrated on Rugby, by my third year I was Team Captain, this was one of the highlights of my time at Bangor as an undergraduate. As I continued as a student at Bangor University I became more interested in the outdoors, I started climbing and white water rafting. I trained with a local rafting team, really enjoyed it and eventually got asked to trail for the British Team. I have now been representing Great Britain in White water rafting for just over 3 years. In May at the European Championships in Bosnia our team won overall Gold, making the Women's GB rafting team European Champions! To date this is the highlight of my sporting career; we are now training for the World Championships in December 2015 which are to be held in Java, Indonesia."
Regarding her Doctoral studies she commented:
"The highlight of my academic career has to be presenting my research at international conferences; however I did also thoroughly enjoy collecting my field data from the Dyfi Estuary in Mid-Wales for two years of my PhD, it gave me a new appreciation of the stunning natural beauty Wales has to offer, even when we had to collect samples at 4:30am in the morning in March!"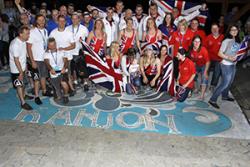 The UK teams competing at the recent European Championships.She adds: "During my PhD I eagerly took advantage of opportunities to travel. I presented my research in two American international conferences, one in New York and another in Salt Lake City. I was also travelled within Europe to present my research, including Denmark and the South of France. During the last year of my PhD I was also lucky enough to travel to the Arctic on a scientific cruise. "
Looking to the future, Suzie says: "While it can be difficult at times juggling a passion outside of work, I am hoping to continue my career in academia, and am thoroughly enjoying my lecturing post in the School of Ocean Sciences. I also hope to continue representing Great Britain in White Water Rafting and win gold at the World Championships in December."
Publication date: 24 July 2015