European Powerlifting Champion awarded Llew Rees Memorial Prize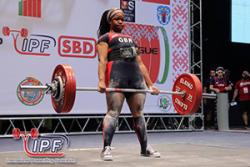 Chrystal at the World Classic Powerlifting Championships at Belarus : Photo: IPF- International Powerlifting FederationBangor University has awarded its annual highest sporting award, the Llew Rees Memorial Prize, to the 2017 European Powerlifting Champion.
Chrystal Williams, 21, from Bolton has been awarded the prize as she has made the greatest contribution to raising the profile of Bangor University sport by her personal achievement at international level.
Having just completed the second year of her Psychology with Neuropsychology degree, Chrystal has had a remarkable year competing in regional competitions in the North West of England which lead to qualifying for the British and English National Competitions. Chrystal has been competing in the Juniors U84kg class for the last 18 months and holds four English and British records. She has represented Britain several times, becoming European Champion after competing in the European Classic Powerlifting Championships held in Denmark in March 2017 and came second in the World Classic Powerlifting Championships at Belarus in June 2017, currently holding a European record.
The former Sharples Secondary School and Bolton Sixth Form College student has been involved in Powerlifting for two years and became interested during her second semester in 2014. Chrystal has always liked the thought of being a "strong person" but felt too nervous to attend the gym on her own. She became a member of the University's American Football Team and started to attend the gym with her football coach and teammates. She was told that she had a lot of natural strength and was encouraged to attend the gym to learn the correct technique and never looked back.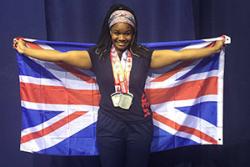 Chrystal WilliamsDelighted at receiving the prize, Chrystal said: "It is a huge honour and accomplishment to be recognised and rewarded for the hard work I have put into the sport. It means that I have been able to push myself to a certain level and will be able to continue to progress forward with the support of my University. The prize means a lot because, as well as the financial aid to help fund equipment and competitions, it shows me that my University and many others are readily encouraging me and see potential and are willing to award my achievements. Bangor has given me and others the opportunity to start a powerlifting club and raise more awareness of powerlifting and I am very thankful for their help.
"My future hopes are to progress even further in powerlifting and coaching as I am now a qualified Level 1 Powerlifting Coach. I would like to continue my Captaincy of the Bangor University Powerlifting Club and to help others in any way that I can, as well as introducing the sport to more students. I would like to continue competing nationally and internationally to see how far I can succeed in a sport that I am very passionate about. It has been a wonderful and empowering experience, allowing me to meet amazing people and travel around and outside of the UK. I look forward to the many more opportunities it will lead to as I continue to grow stronger physically and mentally."
This year Chrystal was also awarded Full Colours, Blues and Sports Woman of the Year at the Athletic Union's Annual Dinner and saw the Bangor University Powerlifting Club win the 'Club of the Year' accolade in its first year of running.
Publication date: 30 June 2017