Every Can Counts at Bangor University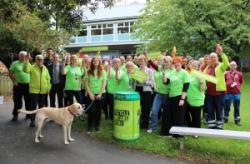 Waste Awareness Week got off to a flying start with the launch of the Every Can Counts bins - this one is at the Ffriddoedd Student Village.Bangor University is to improve its onsite recycling facilities for approximately 11,000 students and 2,000 members of staff by teaming up with Every Can Counts.
The University introduced branded 'Every Can Counts' recycling bins in eight locations, providing students and staff with the opportunity to recycle drink cans whilst 'on the go'. This forms part of the University's wider waste strategy to make better use of resources and prevent, reuse and recycle as much material as possible. Having launched a prevention and reuse catering campaign - Think Before You Drink earlier this year, and having just introduced a new lab plastic recycling collection across campus in September, this is the third new waste initiative undertaken at Bangor in 2019.
'Every Can Counts' was launched as part of Waste Awareness Week #WAW19, Bangor University's annual campaign. Student and staff received an e-mail informing them of the campaign, the new bins were also promoted on social media to increase awareness and to help encourage students and staff to recycle more when walking around the University.
Gwen Holland, Sustainability Research Officer and Campus Waste Co-ordinator said: "Bangor University was delighted to be approached by the 'Every Can Counts' campaign and jumped at the opportunity to receive 'on the go' can recycling bins for our estate. Whist we have extensive recycling facilities in our buildings, we are aware that we still lose valuable material when our students, staff and visitors are out and about on campus. Aluminium cans are a great material to capture as they are closed-loop, which means they can be recycled over and over, forever, with no loss of quality and using only 5% of the energy used when creating the product from new. We hope this will be yet another step to ensure valuable material is captured here at Bangor, and not lost to energy recovery."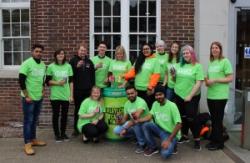 There are eight bins in all- this one is outside Deiniol LibraryJulie Meeks from Every Can Counts, said: "Bangor University have taken on the Every Can Counts programme as part of their proactive approach and by working together, we aim to improve recycling across the site by introducing the Every Can Counts bins. We urge more colleges and universities to get involved and start working with the free to use Every Can Counts programme; whether universities are looking for help promoting existing recycling facilities, or for those looking to start a new recycling scheme from scratch, we're here to help."
For more information about how your business or organisation can sign up to Every Can Counts visit www.everycancounts.co.uk or call 01527 597 757.
The Deputy Minister for Housing and Local Government Hannah Blythyn said: "I am pleased to see Bangor University and the Every Can Counts programme aim to further increase the on-site recycling facilities. Wales is already leading the way in the UK when it comes to recycling but I want us to go further and make Wales the number one recycling nation in the world. That is why this week I launched a consultation on increasing recycling from businesses and non-domestic properties, such as Bangor University. The new proposals for regulations published this week will help and support businesses to meet this target. I hope all those affected by these regulations that we propose to introduce will take part in the consultation and give us their views.
To take part in the Business Waste regulation consultation visit https://gov.wales/consultations.
Publication date: 30 September 2019