Extreme environmental physiology special issue highlights research from Bangor
The Global Research Expedition on Altitude Related Chronic Health (Global REACH) is an exciting international collaboration of researchers from Europe and the Americas whose common goal is to advance understanding of human adaptation to high altitude. This month, in Experimental Physiology Special issue: Extreme environmental physiology, a study from the 2018 Global REACH expedition to Peru, which involved scientists from Bangor University's Extremes Research Group, is highlighted as an 'Editor's pick'.

"In Peru, approximately one third of the population live and work in the Andes at around three to four times the height of Yr Wyddfa/Snowdon, the highest peak in Wales" said Dr Jonathan Moore, a senior author on the paper. "Being born at altitude provides some degree of natural adaptation to cope with the stress of life in thin air. However, around 15 % of Andean adults lose their ability to cope in the long term, resulting in a maladaptation syndrome known as chronic mountain sickness, or CMS.
"Importantly, CMS differs from illnesses experienced by some lowland natives unaccustomed to high altitude" Moore added. "CMS often associates with abnormalities of cardiovascular function, and compared with other indigenous peoples, such as those of the Tibetan Plateau and the East African Highlands, the prevalence of CMS appears to be greater for natives of the South American Andes."
The recent 'Editor's pick' enhances understanding of regulation and integration of cardiovascular function at high altitude. Together with another study from Dr Moore and colleagues, this work supports a theory of different distinctive routes of physiological adaptation to cope with life in thin air.
The Extremes Research group is delighted to have this output highlighted in Experimental Physiology. In addition, the group is very proud to contribute to Global REACH, which facilitates participation in high altitude field studies across the full range of academic experience, from undergraduate to senior researcher. Notably, Dr Lydia Simpson, who was a postgraduate researcher in the School of Sport, Health and Exercise Sciences, was awarded a PhD in August 2020 for her thesis that included data from studies undertaken on the 2018 Global REACH Expedition. A Hot Topic Review, also published in Experimental Physiology, is available here.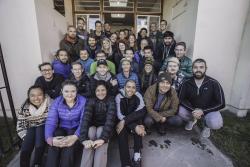 Global REACH, Cerro de Pasco, Peru, June 2018 (Lydia Simpson, front row, second from left; Jonathan Moore, right at the back, centre)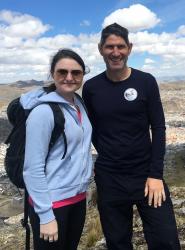 Lydia Simpson & Jonathan Moore
Publication date: 15 January 2021