F1 in Schools – Regional Final 2013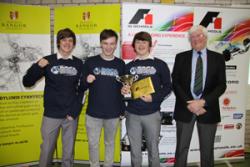 Team Falcon F1, Connah's Quay High School with Bob Carter, EESWBangor University's School of Education hosted the North Wales F1 Regional Final recently. This popular Formula 1 challenge brought over 20 Local Primary and Secondary Schools together to compete for places in the UK National Finals which will take place later on in March. The F1 in Schools World Finals 2013 will be held in Austin, Texas
It was Falcon F1, Connah's Quay High School who took the 1st place F1 class honours and claimed the fastest car award with a time of 1.658 Seconds. Falcon F1 also won the award for the Best Engineered Car for the 4th year running.
Runners Up for the F1 Class went to 'AeroShock' of Ysgol Eirias High School whilst Team 'BOLT' from Ysgol Glan Clwyd celebrated 1st Place Bloodhound Class award.
Christopher Jennings from Connah's Quay winning team commented:
"After spending considerable time through extracurricular lessons, some 60 hours, and four years of competition, Falcon F1 finally has the opportunity to represent North Wales and hopefully Wales at the National and World Finals. The standards set at this Regional Final have over the past few years considerably become more and more competitive and challenging with the standard of teams."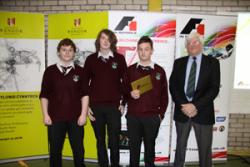 Team AeroShock of Ysgol Eirias with Bob Carter, EESWHe added:
"The venue is fantastic along with the layout of pit areas and timings throughout the day. As a school we have always received positive feedback from companies and colleges when learners have moved on, often commenting of how the F1 competition has tipped the balance with their acceptance. The learners and students gain considerable experience, developing their confidence and enjoying the competitive team atmosphere."
Other awards of the day went to the following teams:
Team Identity-Venom, Prestatyn High School
Innovative Thinking Award-Hyperion ,St Brigids
Sponsorship & Marketing-BOLT -Ysgol Glan Clwyd
Judges Discretionary Award -Mellt Y Moelwyn Ysgol Y Moelwyn
Best Rookie Team-Nutrino, St Brigids
Team Falcon 1 concluded:
"In terms of winning, this has taken the school and this current team four years to reach this position. It was a very emotional and proud moment for all involved to be crowned as F1 class champions and to retain their unbeaten record for winning the Best Engineered Car for the 4th year running. The team are so motivated now for the nationals and are focussing on reaching the World Finals in Texas."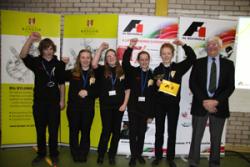 Team Bolt from Ysgol Glan Clwyd with Bob Carter, EESWThe F1 in Schools is a multi-disciplinary challenge where teams of students aged 9 to 19 collaborate, design, analyse, manufacture, test, and then race miniature gas powered balsa wood F1 cars. The challenge inspires students to use IT to learn about physics, aerodynamics, design, manufacture, branding, graphics, sponsorship, marketing, leadership/teamwork, media skills and financial strategy, and apply them in a practical, imaginative, competitive and exciting way. Teams are judged on car speed, as well as supporting evidence of their design, verbal presentation and marketing display stands.
Dewi Rhys Rowlands, Course Director of the Product Design course at Bangor University commented:
"The quality of work produced at secondary level has been outstanding. This kind of event showcases areas of design thinking, engineering and technology at its best. The enthusiasm from the F1 event organisers, the staff, the participating schools and the children themselves has been once again outstanding this year.
"This F1 in schools event is a great platform that inspires young learners to get even more involved in the field of Product Design and Engineering in a practical, imaginative and exciting way and gives them an opportunity to develop their broader employability skills."
Publication date: 20 February 2013