FfitCymru and Bangor University getting the nation fit and healthy
Bangor University's expertise will be seen on S4C over the next few weeks as an innovative new show, FfitCymru, is broadcast. The show will follow 5 member of the public as they introduce significant changes to their lives in order to lose weight and develop their fitness. What sets this show apart from countless other similar programmes is that viewers will be able to choose and follow whichever participant they identify with the most and then follow the same fitness regimes and utilise the same recipes so that they too benefit.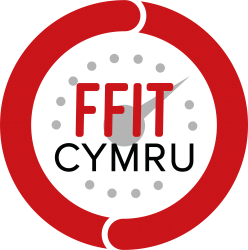 FfitCymru
The University's sports centre, Canolfan Brailsford, was used as a location to assess the participants' fitness prior to employing the various behaviour-change programmes that have been tailored specifically for them by the show's multidisciplinary team of experts. Other tests will take place during the programme's run and will be conducted at the University's PAWB Centre, a purpose-built research facility for assessing the effects of exercise on the body's physiology and on aiding recovery from injury.
The results of all these tests will be evaluated by Tomos Jones, a PhD student at the School of Sport, Health and Exercise Sciences.
On the partnership between FfitCymru and the University, S4C Content Commissioner, Sioned Wyn Roberts said:
"We are proud of our partnership with Bangor University. Their facilities will play an important part in the series, as our leaders aim to transform their lives and improve their fitness and health."
This was echoed by Bryn Jones, Bangor University's Head of Knowledge Exchange, who said:
"Working in partnership with S4C and Cwmni Da on an innovative and worthwhile show such as this has been incredibly rewarding for all involved. Our approach is to put knowledge to work and collaborating on this programme has not only has it given us opportunities to showcase our expertise in the fields of sports, health and exercise science, it has also allowed us to apply that knowledge in ways that benefit the nation's health."
FfitCymru is produced by Cwmni Da and the first episode will air on S4C at 8pm on Tuesday (10/04/18).
Publication date: 10 April 2018