First Class Honours for busy mum Eira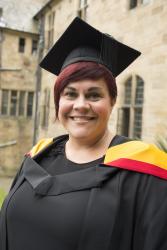 Eira Winrow
Eira Winrow, 38, originally from Holyhead, has just graduated with a first class joint honours degree in Health & Social Care and Social Policy.
Eira, a busy mother of two, said: "It feels amazing to be graduating! It's been a tough but very enjoyable three years and I'm missing studying already. I can't wait to start my Masters degree in September.
She added: "After school, my husband and I worked in the pub restaurant trade, running successful restaurants and hotels in Blackpool before moving back to Bangor in 2004. I enjoyed the job for years but after the birth of my second child I began to get itchy feet. I handed in my notice and my husband took over The Antelope in Bangor.
"Whilst studying with the Open University, I really felt that I had found my niche in Social Sciences and decided to apply for the Health & Social Care / Social Policy degree at Bangor and was thrilled to be offered a place. The rest is history!
"I chose Bangor because as a mature student with a young family, it was so convenient and it has a good reputation. I worked when I could fit it in and was very lucky as I could pick and choose my hours at The Antelope! Being a mum also kept me very busy; trying to juggle home life with study was the biggest challenge.
Eira added: "The last three years have been amazing, but the highlights included getting an A+ for my dissertation, an A* for one of my final exam essays and passing every year with first class grades – when I put my mind to something it really is all or nothing!
"I'm sure that studying as a mature student was the best course of action for me as I don't believe I was ready to study at this level as a 17 year old.
"My children were 4 and 1 when I started my degree, so balancing study and parenting was difficult. I felt guilty on so many occasions when I stayed late in the library or couldn't go out with the family at the weekend, but I eventually saw it as a job – if I hadn't been studying I would most certainly have been working full time.
About the future, she said: "I'm really looking forward to starting the Masters degree (Social Policy Research & Evaluation) in September, and would like to follow an academic and research career at Bangor University. I'll be talking to my lecturers about PhD opportunities as soon as I get back!"
Watch our video interview with Eira on BangorTV

Publication date: 12 July 2013