First film training programme for Wales up for Lottery award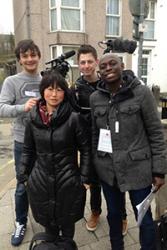 Delegates from the film training programme out on location filming in Bangor.A film training programme which aims to give young people the opportunity to forge a career in the film industry, and which was offered in Wales for the first time this year, has been named as one of the finalists for a National Lottery award.
The BFI Film Academy, which is run at various locations, including at Bangor University by staff and alumni at the University's School of Creative Studies and Media, is one of seven finalists nominated in the Education Award category of the National Lottery Good Causes Award 2014.
The winner will be chosen by public vote, and it's possible to do so here. The winners will be announced in September 2014.
At the BFI Film Academy, talented 16-19 year olds are mentored over the three weekends by current students and recent graduates from Bangor Universities' MA filmmaking course. Young people from around Wales and the UK have already taken part have given the course their thumbs up.
Isaac Mohammad Nasser, who travelled from Cardiff to take part, said: "It's been an amazing experience, and has exceeded all of my expectations.
"We have access to great equipment, and great mentors. It's given me a more extensive understanding of the structure of the film industry, and how to get access to it."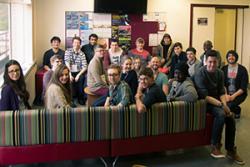 Course delegates with their tutors and mentors at the School.As well as filming and editing a short documentary, participants can network with award winning documentary professionals and respected practitioners in their field.
Media Practice lecturer Joanna Wright ran the project on behalf of the School of Creative Studies and Media, with input from other production alumni and staff in the school.
"We are thrilled to be nominated, it's the first time the BFI Academy has taken place in Wales, so it's especially exciting," she said.
"One of the best things about the Documentary Academy is the great collaborations that took place, between industry professionals, education, our student mentors and of course the talent and commitment of the young people who took part.
"The BFI Academy is a great way to help democratise an industry that can be hard to break in to, especially away from urban centres.
"Vote for us, the success of the project means we can offer it again and develop it for future years."
The BFI Documentary Academy it will be running again in Bangor in October 2014. More info can be found here.


Publication date: 8 July 2014