First in family to graduate wins award
A prize winning student, who was the first member of his family to go to University, graduates from Bangor University this week.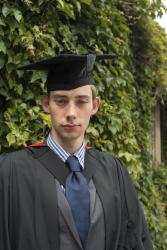 Matthew Robson
Matthew Robson, 21, from York, is graduating this week with a degree in History and Economics. He has also been awarded the Charles Mowat Memorial Award for History worth £100.
Matthew, a former student of York College, said: "It feels incredible to finally be finished, all the hard work having paid off. However, I will miss Bangor and all the amazing people I have met here.
About Bangor, he added: "I chose Bangor, because not only did the course and lecturers suit my interests, but the small friendly city life of Bangor. The support given by the University and the societies available also played a huge part in my decision.
"I took part in an Internship at the Bangor University Centre for Health Economics and Medicines Evaluation, in the first semester of my final year. I also volunteered as a Peer Guide and Senior Peer Guide in my second and third year respectively. I was also a member of the Bangor University Medieval Re-enactment Society and the Bangor University Squash Club.
I have had an amazing time the three years I have been at Bangor, and will take some fantastic memories back with me.
About the future, Matthew said: "I am going to do a MSc in Health Economics at York University next year, then we'll have to see what opportunities arise!"
Publication date: 12 July 2013