First novel wins Award and Doctorate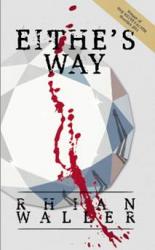 A novel written as part of a Creative Writing course at Bangor University has just won The Write Factor Shortlist Award, 2014 and been published for new author, Rhian Waller.
Rhian's debut novel, Eithe's Way, was written as part of a Creative and Critical Writing PhD at Bangor University's School of English.
The novel follows the journey of a young woman who runs away from domestic abuse and into a metaphysical relationship that challenges the central character, Eithe, to find her own strength and direction in life.
Rich in magical realism, Eithe's Way is already receiving critical acclaim. The judges were impressed by Waller's sublime turns of phrase and her ability to build a palpable sense of tension and foreboding in the narrative.
Lorna Howarth, The Write Factor's founding editor says, "Waller has a precocious talent that belies her years. She writes with great wisdom and has a way with words that makes one hopeful that this is the first of many great novels."
Ian Gregson, Professor and Director of Creative Writing at Bangor University, and author of Not Tonight Neil (Cinnamon, 2011), says, "Rhian Waller's 'Mirror Man' is a brilliant invention and up there with the best metafictional imagery in contemporary literature."
Rhian Waller's response to winning The Write Factor Shortlist Award 2014 was one of surprise and delight. "Words allow us to jump into other worlds and I've been enjoying that process since I was very young. Eithe's Way enabled me to create a world of my own that other people can now visit, thanks to this Award."
Rhian, who is about to be awarded her PhD, says: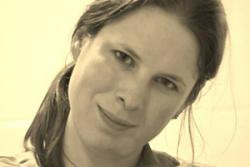 "I studied at Bangor University as an undergraduate in Literature and Creative Writing. I was pleased they accepted my application, because Bangor was the only university I'd applied to which offered a creative writing as a major part of the degree, rather than just an elective module."
"My emphasis was on literature, at first, but I realised that I found the creative writing portion of the course thoroughly engaging, especially with writers like Zoë Skoulding and Ian Gregson leading the seminars."
Rhian earned a First Class Honours degree and won the John Danby prize for the best graduate at the School of English in 2007. After graduating, she spent time travelling in Europe and in ecological volunteer posts, before finding out about the PhD.
Rhian studied for her PhD while training as a journalist, and completed it while working full time, although, she says she wouldn't recommend that to any other students.
29 year old Rhian was born in Grimsby, but has spent most of her life in north Wales and currently lives in Mold and is a part-time lecturer in further education.
Publication date: 30 June 2014