First-time Writing Bursary for School of Welsh Student
Congratulations to Gareth Evans-Jones, a PhD student in the School of Welsh, on winning a First-time Writing Bursary supported by Literature Wales.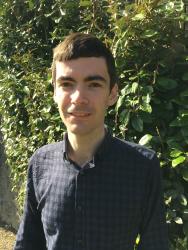 The bursary will enable Gareth to develop his first novel, Dinogad, which is inspired by the early Welsh heroic poem by Aneirin, Y Gododdin. The fantasy novel will seek to reimagine the ancient story by presenting a young man who discovers he is adopted, the implications to him, his adopted family and the wider society.
More information may be found on Literature Wales's website:
http://www.literaturewales.org/lw-news/wealth-new-writing-wales-literature-wales-announces-writers-bursaries/
Publication date: 30 March 2017