Food Dudes get children eating their vegetables in Wales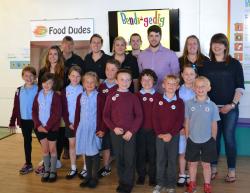 On Wednesday 10th June the Welsh Centre for Behaviour Change (WCBC) and Food Dudes teamed up to host a day of adventure sessions that saw groups of Welsh primary school children having fun with fruit, vegetables and physical activity. The sessions, held at Bendigedig indoor activity centre in Barmouth, welcomed groups of children from two local schools who sampled a range of raw fruit and vegetables, as well as taking part in a series of bilingual activities designed around themes of healthy eating and physical activity.
Food Dudes is a social enterprise that applies the science of behaviour change to increase fruit and vegetable consumption and levels of physical activity in children aged 2-11 years. The Food Dudes system was devised by behaviour change scientists at Bangor University.
Razz, Tom, Charlie and Rocco – collectively known as the Food Dudes – capture children's imagination, engaging them in a cleverly engineered behaviour change system that changes their food preferences and increases their physical activity levels. The adventure sessions in the Barmouth activity centre provided children and their teachers with a brief introduction to Food Dudes.
The day was organised by WCBC – currently funded by the ERDF to work with businesses in the Convergence zone, Bendigedig and Food Dudes' research team at the School of Psychology, Bangor University. Children came along from Dyffryn and Barmouth primary schools.
This event closely followed the release of the latest results from the Welsh National Child Measurement Programme, which showed that the prevalence of those overweight or obese in Wales in reception year (26%) was significantly higher than that for England (23%). Throughout England and Ireland, as well as in areas of Scotland, Food Dudes school-based programmes have been generating impressive results for some time, using cutting edge behaviour change interventions, designed here in Wales, to produce large and lasting increases in children's fruit and vegetable consumption. In turn, this has been shown to naturally reduce the amount of foods high in fat, salt and sugar that are eaten by the children, contributing to their overall health.
Catherine Sharp, research scientist at Bangor University, commented on behalf of Food Dudes:
"Food Dudes undoubtedly creates healthy eating habits in children and the work that I am currently focused on has shown very promising effects on their physical activity levels too. These are all important factors in targeting childhood obesity. I'm so pleased to have been given this opportunity to showcase the system here in Wales, where it was created, at a time when health and wellbeing interventions like this are needed by our children more than ever.
"We had a brilliant day and I would like to thank the WCBC and Bendigedig, as well as my fantastic colleagues, for facilitating the Food Dudes adventure day. Of course, a special mention also goes to the staff and children from Dyffryn and Barmouth primary schools, who are now officially Food Dudes too!"
Publication date: 10 June 2015