Food Dudes interactive stories help toddlers get active for life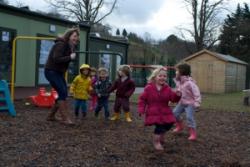 Catherine Sharp with some of the children at the University's Tir Na n'Og Day Care and Child Research Centre.Bangor University's research on behaviour change led by the late Professor Fergus Lowe and Professor Pauline Horne has led to the creation of the highly effective Food Dudes Behavioural Change System to improve children's health and wellbeing. The award-winning System uses the key behavioural principles of role modelling, rewards and repeated tasting to help children aged 2 – 11 years to enjoy eating fruit and vegetables and change their diets for life. The System has been trialled internationally and in 2012 its success led to the creation of a successful spin-out social enterprise company called Food Dudes Health.
But healthy eating is only one aspect of maintaining a healthy lifestyle; we must also tackle children's low physical activity levels to have a yet more powerful means of preventing childhood obesity. Public Health Wales has acknowledged that over a quarter of five year olds in Wales are overweight or obese. Early intervention to establish good health behaviours could be a powerful means of preventing the long-term consequences of obesity, such as increased risk of heart disease, diabetes, and cancers.
Psychologists at Bangor University are now using the learning principles that underpin the Food Dudes Behavioural Change System, to expand the programmes available and encourage children to become more active.
Catherine Sharp, a PhD Student at the School of Psychology, who worked to develop the current Food Dudes Nursery healthy eating programme, is now advancing research to boost 2-4 year old's activity levels. She is currently developing the research in the University's Tir Na n'Og Day Care and Child Research Centre.
Part of the research will consist of four interactive visual and audio adventure stories that invite the children to join in the actions of a Food Dude character and sing action songs along with the narrator. The stories and songs are set to music composed by colleagues at the University's School of Music.
Children's physical activity levels will be monitored using accelerometers worn on story days.
Catherine explains "we are currently making the interactive story videos and plan to show them to the children for the first time next month. Having spent hours with the children in the nursery I am sure they will really enjoy the stories. I would like to thank everyone who is supporting the development of this much needed programme to increase pre-school children's activity levels".
Publication date: 2 December 2014