"For services to tackling poverty abroad and to education in Derby"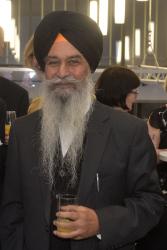 Dr Daljit Singh Virk at a reception in 2015.Dr Daljit Singh Virk, a Senior Research Fellow at Bangor University is to receive the OBE.
The award recognises the impact of Dr Virk's scientific contributions as geneticist and plant breeder as well as his leading role in establishing the Sikh faith Akaal Primary School, in Derby in 2015. The free school was established under the Academies Act.
Dr Virk has been at the heart of one of Bangor University's most impactful research projects, which has contributed to improved food security and livelihoods for millions of households in some of the most impoverished countries.
As a globally renowned geneticist and plant breeder, Dr Virk used innovative and novel techniques (Client-oriented plant breeding, marker assisted selection and community-based seed production) to improve grain crops in South Asia and Africa under the UK government's Department for International Development (DFID), Rockefeller Foundation and Irish Aid projects.
He targeted poor marginal farmers who cultivate low fertility soils. For example in India, he developed half a dozen rice varieties of which two Ashoka varieties of upland rice varieties had reached 2.8 million households by 2008. Later, thousands of tonnes of seed was produced and distributed to many more farmers.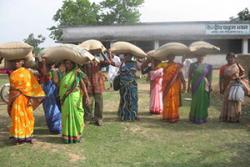 Women farmers taking away the certified seed bags of Ashoka 200F upland rice variety after a training session in Central Paraha Bhavan at Bero, RanchiAs a result of the new varieties, farmers harvested 46% more grain, which was of a better quality. Earlier harvests also provided them with more food in the 'hungry season'. These two upland rice varieties have improved the food security and livelihoods of millions of poor farmers. He also developed varieties of maize and chickpea for the poor farmers in India.
Similarly, in Ethiopia he identified a number of varieties of wheat, maize and teff (a local grain) for the poor Ethiopian smallholder farmers. Two of his wheat varieties released in the Tigray region have benefitted 100s of thousands of farmers with more food grains and helped in alleviating poverty.
Michael Wilson, a former DFID advisor who looked after DFID funded bilateral project in India contacted Prof Virk, saying:
"I am so happy for you. A very well deserved honour. Lord knows how many people you have helped to move out of poverty in the DFID areas and in areas beyond."
Prof John Witcombe, who has worked closely with Dr Virk over a number of years responded that the news was a:
"well-deserved recognition and it is a fantastic new year present."
Morag McDonald, Head of the School of Natural Sciences said: 'This is wonderful news and very well deserved.'
The award also recognises Dr Virk's work to create more primary school spaces and provide excellent values-based education in Derby. The all-inclusive Akaal Primary School provides values-based education combining Sikh Virtues and British values. Dr Virk is the founder Chair of Governors of Akaal Primary School, and led the team to plead with DFE for a new build in the centre of targeted poor area of Derby.
See also:
New Ashoka rice variety brings food security to millions
Improving the livelihoods of over 5M households in India and Nepal
Publication date: 8 January 2019