Forestry Student Launches Social Enterprise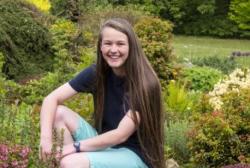 Jemima LettsA student from Bangor University forced to turn-down her dream work placement because of ongoing health problems has reason to celebrate following the launch of her own eco-awareness business, which aims to enlighten teenagers about environmental issues.
Jemima Letts, 21, who studies Forestry at Bangor University, was only four days away from starting a year's work placement as a ranger with Wyre Forest District Council as part of her degree when she had to pull out due to recurrent seizures. In agreement with her university, Jemima is taking a break from her studies, but using this time to act upon her own entrepreneurial flair, which has seen her establish her own business, Tree Sparks, following her passion for forestry and ecology.
Tree Sparks is a social enterprise aiming to ignite conversation within 15-19 year olds about environmental awareness, as well as highlight that jobs within the environmental sector are viable for young people. Although only a few months in to the venture, Jemima has ambitious plans for Tree Sparks including interactive workshops in schools using VR technology as well as online educational activities.
Commenting on the launch of Tree Sparks, Jemima said: "Overcoming the disappointment of having to give up my dream work placement, I was determined to turn a negative situation into something positive despite ongoing health problems. From just a small idea, I have now developed Tree Sparks into what I hope will be a successful and impactful business. I'm passionate about raising awareness of the many issues facing our environment and green spaces and providing future generations with the knowledge to make positive changes to our planet."
Tree Sparks was set up with the help of Big Ideas Wales, part of the Business Wales service to encourage youth entrepreneurship in Wales. Big Ideas Wales is funded by Welsh Government and the European Regional Development Fund aimed at anyone between the age of 5 and 25 who wants to develop a business idea.
Jemima was encouraged to enter Big Ideas Celebrated by the university's Enterprise team, a national event held in Bangor for young entrepreneurs to showcase their businesses. Jemima's business concept struck a chord with the judges and saw her receive both the Social Impact Award and Future Entrepreneurship Award, along with a £1000 grant. Jemima plans to use the money to develop a website and start creating VR content. In terms of future ambitions, the budding entrepreneur aims to continue running the business alongside her studies which she will return to in September when she undertakes her final year.
Jemima continued: "As a young businessperson at the very start of my career, I couldn't believe how much support Big Ideas Wales was able to offer people like myself and for free. As well as Big Ideas Celebrated, I also attended their Bootcamp to Business event in Bala only a few weeks ago and received so much useful advice on how to develop my business further. It's been such a worthwhile service to engage with and I would highly recommend other young businesspeople to take advantage of Big Ideas Wales' services."
As a result of her success at Big Ideas Celebrated, Jemima has now forged links with the International Forestry Students' Association and been invited on the Drivers for Change programme, an eight-day trip around the UK where 100 young entrepreneurs from social enterprises, private businesses and the arts will join forces to create change in UK communities.
Lowri Owen, Enterprise Manager at Bangor University said: "Jemima is an inspiration to students everywhere, creating something positive out of a terrible situation facing her. Her entrepreneurial aptitude is clear in her ambition for Tree Sparks and we wish her every success for the future."
Related stories:
Publication date: 4 June 2018