Former Professional Footballer graduates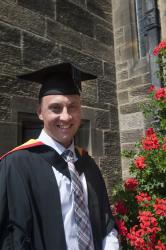 David Cashman
A former professional footballer who came back home to North Wales to study at Bangor University is graduating this week.
David Cashman, 23, from Deiniolen, is graduating with a degree in Sport, Health & Physical Education.
The former Ysgol Brynrefail pupil said: "I am very excited to be graduating after all this hard work. I left school without many GSCE's but I worked harder after finishing school, however I do remember enjoying studying PE during my time at Ysgol Brynrefail."
David left school and worked and signed for The New Saints (TNS), a full-time-professional British football club who play in the Welsh Premier League, where he spent the next three and a half years. David said: "I came home from TNS as I wanted to go to Bangor University and do something with my life."
During his time at Bangor, David worked as a Head Coach at the Bangor City Academy and also as a coach for the 5x60 programme. He also worked as a bouncer over the weekends and was closely involved with the University's Widening Access programme. He also found time to work as a classroom assistant and at Aneddau, where he encouraged disabled people to keep fit and healthy. David will also be studying for his FAW UEFA B License with football coaching, which starts this month.
He said: "Balancing these jobs and becoming a father was really hard but I got through it with determination."
Anna MacDonald, Bangor University's Widening Access Assistant, said: "It's brilliant having David working with us on different Widening Access projects with local youth clubs. He's extremely dedicated and the young people really look up to him and he inspires them to go on to Higher Education."
About his time at Bangor, David added: "I was a member of the University's football team and we won two British Universities & College Sport leagues and I played in every game. Scoring the goal to win the league during an away game against Edge Hill University was one of the highlights of my time at Bangor.
"Another highlight was my dissertation, which I found very interesting. I was looking at team talks within a team before, during and after the match."
About the future, David added: "I've been accepted to do my Masters in Applied Sport Science in September and after this I will be studying PGCE the year after. After that I am going to apply for jobs within professional Academies in Wales and England or even aboard."
Publication date: 12 July 2013