Former student wins 'journalist of the year' award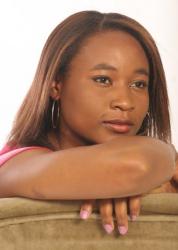 Noellin ImohA former student at the School of Creative Studies and Media has won a prestigious journalism award for her work.
Noellin Imoh, who graduated from Bangor in 2010, won a BEFFTA (Black, Entertainment, Film, Fashion,Television and Arts Awards) for her work as editor of African Dazzle Magazine.
She said the awards were the biggest of their kind outside of Africa and that she had reached a goal she set herself on graduating from Bangor.
Noellin picked up the 'Journalist of the year' award at a glitzy award ceremony in London on October 25th.
"Winning the award means a lot to me, as it is my very first award in the entertainment industry," said Noellin.
"I went to the BEFFTA awards for the first time two years ago, and was very impressed. I said to myself that evening, 'Wow, I would like to be on that stage someday collecting an award for a job well done'. I didn't expect it to happen so soon.
"Since graduating from Bangor University in 2010 I have been working really hard, trying to settle in the entertainment industry. I set up African Dazzle Magazine online earlier this year. I feel great and feel more like a writer.
"Winning this award has definitely giving me more energy, courage and motivation to move on. Knowing that someone is watching and my work is being seen gives me joy, energy and motivates me to carry on.
"I am very happy and look forward to working harder and doing more great things in the media industry in years to come."
Publication date: 4 November 2013