Four Bangor University students compose 100 poems in 24 hours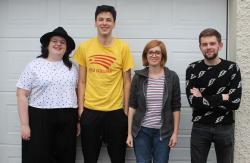 L-R: Caryl, Osian, Manon and MorganOn this year's National Poetry Day, four Bangor University students took up Literature Wales' annual challenge to compose 100 original poems in 24 hours.
This Year's poets were Manon Awst, Caryl Bryn, Morgan Owen and Osian Owen.
Between 12.00 pm on Thursday 4 October and 12.00 pm on of Friday 5 October in Llanberis, between them, the four poets successfully completed 100 poems on topics chosen by the public. Using the hashtag #Her100Cerdd, they received requests that covered a wide range of subjects – the entertaining, the serious, and the humorous.
The completed poems covered a wide range of themes, which included a cat in a washing machine, well-known areas from around the world, praise for a black ball-pen, and many requests for greetings to those new to their student houses throughout the country.

Before taking up the challenge, the poets were worried that there would not be enough requests and suggestions, however, their worry was short-lived as 154 unique requests were received, via Twitter, Facebook, e-mail and personal messages.
"I think that this is the best and worst experience that I've ever had", said Osian Owen with two hours to go, "I felt so many different emotions over the 24 hour period – from fatigue to being quite off the wall."
Morgan said: "The Challenge emphasises above all the social nature of poetry, especially Welsh poetry. It was a privilege and an honour to be able to compose poems about the topics sent to us, and with the combination of time pressure and the diversity of topics, it led to very interesting poems!"

This is the sixth time that Literature Wales has held Her100Cerdd as part of National Poetry Day celebrations. Now the challenge has established itself as one of Wales ' leading literary events with hundreds participating by sending their requests for poems and words of encouragement to the poets, and thousands more following over the Web and social media. The result is a unique poetic record of that particular day's history in Wales, and across the globe.

The challenge was completed at 11.48 am exactly with a very apt poem 'Terfyn' (The End).

When Caryl Bryn was asked about how she felt after completing the Challenge, she replied: "I'm ready for bed, and I don't want to do poetry for a long time after today."

THE POETS:
Manon Awst is studying part-time for a PhD at the School of Music and Media – researching the significance of purpose-based art work in Wales.
Caryl Bryn graduated from Bangor University in 2017 and is currently undertaking an MA in Creative Writing at the School of Welsh. Her first volume of poetry will be published in early 2019 by Cyhoeddiadau'r Stamp. Caryl will also be competing with her Talwrn team this year.
Morgan Owen is studying a PhD at the School of Welsh. He took part in the Writers at Work Scheme at the 2018 Hay Festival before taking part in the Architecture Exhibition at the Lle Celf, Cardiff National Eisteddfod 2018 as a resident poet.
Osian Wyn Owen graduated with a first-class BA Welsh degree in July and is now studying for a MA in Creative Writing at the School of Welsh. He won the double at the Intercollegiate Eisteddfod in 2017, taking home both the Crown and Chair, and went on to win the Chair at the Urdd National Eisteddfod in 2018. He's one of those responsible for establishing a Literary Society at University – Cymdeithas John Gwilym Jones.
THE POEMS (in Welsh):
You can see all the poems here: www.llenyddiaethcymru.org/our-projects/her-100-cerdd/
Publication date: 5 October 2018