Friendly Face for people newly diagnosed with dementia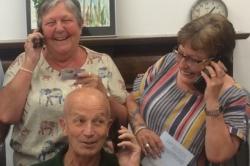 Some of the people who will be answering calls on the helpline."Friendly Face" is an opportunity for people newly diagnosed with dementia to talk on the phone or meet someone else living with a diagnosis in North Wales. The new initiative is to be launched at Bangor University as part of World Alzheimer's Month in September (23/09/2019).
The idea came from Teresa Davies' own personal experience after she received a diagnosis and would have valued someone to talk to that could appreciate what she was going through. This voluntary initiative is an opportunity to speak to someone who can relate to how an individual may be feeling and signpost to others who may be of help, based on their own experiences.
Teresa, of Ewloe said:
"By speaking to other people living with dementia, you can find out what works for them, and share your experiences. You are still you."
The project has received support from Bangor University's North Wales Dementia Network and The Dementia Engagement and Empowerment Project (DEEP) and will be launched at Bangor University on 23rd September at 10:30am. The event will include presentations by leading researchers at Bangor University and of course, the Friendly Faces themselves, who will be sharing 'top tips' on life after a diagnosis of dementia.
Dr Jen Roberts from the University's School of Health Sciences said:
"There is currently very little research exploring peer support for people living with dementia. This project will provide important insights and understanding for the future development of timely and appropriate peer support for people living with dementia."
Bangor University was awarded a "Working Towards Becoming Dementia Friendly", group status by Jim Ibell, Alzheimer's Society Ambassador in May 2019, and members of the Friendly Face team are on the University steering group. This event will also be an opportunity to learn about the range of support currently available throughout north Wales for people affected by dementia.
People interested in finding out more about the latest research and tips on living with dementia by the Friendly Faces are invited to the University's Neuadd Reichel. Spaces are limited: please contact Iona Strom by 10th September to reserve a place at dsdcadmin@bangor.ac.uk or phone 01248 383050. Refreshments will be available at the end of the meeting.
Publication date: 3 September 2019