From archaeological digs to chemistry experiments- Bangor University' has activities for everyone at the Urdd Eisteddfod
Children and their families will be heading to Bala for the Meirionnydd Urdd Eisteddfod during Whitsun Half Term (Monday 26-Sat 30 May).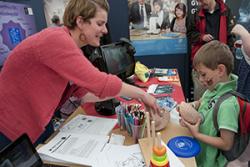 Amid all the competing, there will be plenty to do on the 'Maes', and Bangor University, one of the main sponsors of the Meirionnydd 2014 Urdd Eisteddfod, have ensured that they have plenty of activities on their stand.
There are Science Fun activities that anyone can have a go at, and these are available all week. They include chemistry activities and psychology tests, a sea life exhibition and building a 'Joule thief'- a simple electrical circuit which extracts sufficient energy from 'dead' batteries to light an LED. And if visitors to the stand still have energy to spare, then why not have a go on the Welsh language exercise bike?
There will be arts and crafts, songs and stories as well as face painting and puzzles for younger visitors, all organised by the University's School of Education.
Eisteddfod visitors on Wednesday or Friday, can try their hand at archaeology and excavate some Welsh treasure, and learn more about the Celts, the Romans and the Welsh princes with the School of History, Welsh History & Archaeology.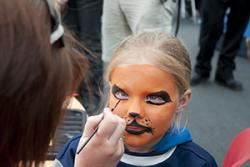 Music is on the agenda for Thursday. The University stand plays host to a classical music workshop a folk music workshop and a Harp masterclass by Elinor Bennett, so if you're not taking part, then come along and have a leisurely listen. If that's not your thing, then you can have an opportunity to ask questions the Cân I Gymru (Welsh song competition) panel.
On Friday at 1pm Pontio's Creative Producer Shari Llewelyn will lead a 3D art workshop exploring the iconic new building at the heart of Bangor. Pontio, Bangor University's new arts and innovation centre, will open in September 2014.
Sioned Hughes, Schools Liaison Officer at Bangor University said:
"We look forward to the Urdd Eisteddfod every year, and are pleased to meet the students of the future on our stand! It's great to have the opportunity to present science and other subjects in a fun way and outside the confines of the classroom and school."
Publication date: 20 May 2014