"Game changing" flagship researcher programme secures national accolade
A flagship Welsh development programme described as "game changing" and which harnesses the talent of top researchers in Wales to help tackle some of society's major challenges has secured a national accolade.

Judged to be an initiative which has delivered "game-changing impacts on attitudes and behaviours", the Welsh Crucible has beaten off competition from five other universities including the universities of Warwick and Sheffield, to win the Outstanding Contribution to Leadership Development award at this year's Times Higher Education Awards.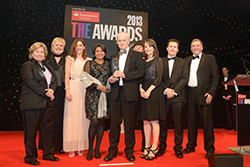 THE Awards Ceremony (Left to right) Sandi Toksvig ; Dr Penny Dowdney (Bangor University); Dr Louise Bright (University of South Wales) ; Liz Crispie (Cardiff University); Prof. Peter Halligan (Cardiff University) ; Rhian Morris (Swansea University) ; Dr Sara Williams (Cardiff University); Jonathan Burnes (Swansea University) and Dr Mark Pegg (Chief Executive, Leadership Foundation for Higher Education)

Launched in 2011, the Welsh Crucible takes innovative approaches to develop future interdisciplinary, early and mid-career research leaders in Wales and is led by Cardiff University in partnership with the universities of Aberystwyth, Bangor, South Wales and Swansea. It is supported by the Higher Education Funding Council for Wales.

Over three months, the programme comprises three intensive, two-day residential workshops, or "skills labs" and participants are supported to develop collaborations beyond the programme to help make their ideas a reality. In addition, the programme allocates places to applicants from public, private and third-sector bodies as diverse as the NHS, Tata Steel and Barnardo's Cymru. Welsh Crucible has also introduced a research-themed study visit to Brussels, which promotes greater awareness of European policy and interdisciplinary funding opportunities.

To date, 90 researchers have been recruited on to the Welsh Programme with innovative research projects already underway such as using digital fiction to improve the body image of young girls, a 'smart pill' to help diagnose gastro-intestinal disorders and a digital app to tackle obesity.

Prof John G Hughes, Vice Chancellor of Bangor University commented:

"This Award is recognition of the great collaborative work being done by Bangor and other universities within the St Davids' Group to ensure that we retain and develop our most promising researchers within Wales. These key people are tackling some of the very real problems facing society. Investing in them will bring benefits to Wales as a whole."

Professor Peter Halligan, Chair of the Welsh Crucible Steering Group, said: "This award is excellent recognition of the Welsh Crucible's ability to develop the necessary skills of Wales' academic base to deliver innovations that have real world application.

"The Welsh Crucible has been designed to introduce new ways of thinking and working to researchers who are already excelling in their fields. The aim is to create long-term changes in attitude and working practice, as well as encouraging practical collaborations between participants. Now in its third year, the programme has demonstrated how it continues to addresses the needs of Welsh universities to collectively grow future research leaders through research-inspired innovation and cross-institutional collaboration."

The Times Higher Awards are higher education's 'Oscars' and recognise ground-breaking work undertaken by UK higher education institutions. The award is for Outstanding Contribution to Leadership Development and is sponsored by the Leadership Foundation for Higher Education, and seeks to recognise and reward imaginative schemes that foster leadership development at any level of management.

The Call for applications for the 2014 programme will open in January. Welsh Crucible is for talented early- to mid- career researchers, with at least three years' postdoctoral research experience, or equivalent, working in any discipline, including science, technology, engineering, medicine, arts, design, social and political science. Participants must work in Wales, either at a higher education institution, or in research and development in business, industry or the public sector.
Publication date: 6 December 2013