Geography student pitches in to promote north Wales' first community- owned hydro project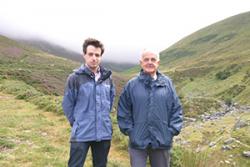 Richard Dallison and Dr Gavin Gatehouse at the site of the planned community-owned hydroelectric project on the Anafon valley near the village of Abergwyngregyn.A Bangor University student is helping members of the community at Abergwyngregyn promote the first large community-owned hydroelectricity generating scheme in north Wales.
Three Abergwyngregyn residents (Dr Gavin Gatehouse, Hywel Thomas and Jacqui Bugden) are developing, with expert help and support, the 270kW community-owned hydroelectric project in the Anafon Valley in the Carneddau range above the village.
This exciting community venture will generate enough green electricity to power 230 houses and has now reached the stage at which the Ynni Anafon Energy Cyf, the Independent Provident Society established to run the project, are about to offer shares to the public.
As Dr Gavin Gatehouse of Ynni Anafon Energy explains:
"For the share offer to succeed it needs publicity and, in these digital days, this means Facebook, Twitter, YouTube and all the other social media, as well as the more conventional channels. We are all retired and belong to a pre-digital generation so we advertised at Bangor University for an intern to help us with the social media.
"The successful applicant, Richard Dallison, a second-year Geography student at the University's School of Environment, Natural Resources & Geography, fitted the bill perfectly. Intelligent, motivated and with a ready-made interest in renewable energy, Richard has been working with the company now for over a month and has more than fulfilled the group's expectations.
"Richard has set up accounts for us on social media sites, has helped develop and contributed to our websites (www.anafonhydro.co.uk and www.abergwyngregyn.org.uk) and is about to embark on distributing leaflets and posters through north Wales – an integral and invaluable member of our team!"
Richard Dallison said:
"It has been great to get some hands on experience in the process of marketing and launching the hydro scheme. The new skills and knowledge I am acquiring, not just in relation to hydro schemes, but also to publicity and events promotion and planning, will be extremely useful to me in the future. The placement will also be of a very high value to me in writing my dissertation in the next year, which is also based on micro hydroelectricity schemes. I am very grateful to have had such a valuable opportunity afforded to me through my BSc Geography degree and the professional placement module within it, at Bangor University.
"I am privileged to have been working with such a kind and motivated volunteer group. They have gone beyond their obligations as employers to make me feel welcome in the group.
"It would be hard for anyone not to get thoroughly involved by this scheme and the goals they are aiming to achieve, the motivation and determination of the team is unbelievable and I cannot wait to see all the hard work to come to fruition, not only in our amazing launch festival on the 13th of September, but also in the finished hydro scheme."
Ynni Anafon Energy have invited naturalist and broadcaster, Iolo Williams to launch their share offer at their festival, Aber Dabba Doo, in Abergwyngregyn on Saturday the 13th of September.
Publication date: 13 August 2014