George Meyrick announced as new Chancellor of Bangor University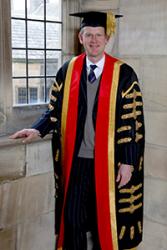 George Meyrick is Bangor University's new ChancellorGeorge Meyrick has been announced as the new Chancellor of Bangor University. He succeeds Lord Elis-Thomas who stood down earlier this year.
He becomes only the 12th individual to hold this ceremonial role at the University, and will serve for an initial period of five years.
George Meyrick is a Cambridge graduate, an environmental lawyer, and is in line to become the 8th Baronet of Hinton Admiral. He has founded a number of businesses active in environmental markets and is the Executive Chairman of the Meyrick family group which is a collection of businesses and landholdings of which the Bodorgan Estate on Anglesey is an important constituent.
The role of the Chancellor is to be an advocate for the University and to undertake a number of important ceremonial duties, including Graduation Ceremonies and representing the University at various events.
The University officially welcomed Mr Meyrick as Chancellor at its December graduation ceremonies last week.
Publication date: 19 December 2017