George Osborne Meets the Food Dudes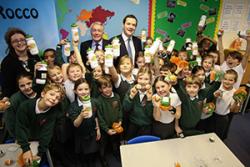 With George Osborne was local Cheshire County Councillor, Rachel Bailey and Professor Fergus Lowe, Chairman of the social enterprise, Food Dudes, developed at Bangor University.Primary School pupils following a healthy eating project run by a Bangor University 'spin-out' social enterprise, met with UK Chancellor George Osbourne MP recently.
The children at St Vincent's RC Primary school in Knutsford, Cheshire are following a new pilot programme of the Food Dudes project which is designed to improve healthy eating amongst children.
Using behaviour change methods, Food Dudes healthy eating programmes increases children's consumption of fruit and vegetables and also decreases their consumption of sweet and fatty foods. Initiated by a series of research projects at Bangor University's School of Psychology, headed up by Professor Fergus Lowe, the fast growing programmes have already reached over half a million children and the scheme is rapidly expanding across the UK and has successful schemes in the US and Italy.
At St Vincent's, the programme is being conducted by the school's Year 4 class. Their teacher, Mrs Bullen, provided an overview of the programme and explained the activities that the children had been involved in during the trial in school.
Chancellor of the Exchequer and MP for Tatton George Osborne said:
''I announced at the Autumn Statement the launch of free school meals to key stage one school children in England. So it's great to see today a local school and a local organisation, in my own constituency in Tatton, running a programme designed to encourage children to make healthy eating choices.
With real evidence behind it, the Food Dudes programme and initiatives such as these will help ensure that the government's investment in free school meals will not only help hardworking families on cost, but will also have a real impact in helping to improve healthy eating''
Roisin Moores, Head Teacher, St Vincent's RC Primary School commented:
"The children have had a great time seeing the fun movies about the Dudes, and taking part in tasting sessions and getting Dudes' rewards. The programme is well designed to change the children's eating habits through fun and engaging activities, which provides a great framework for improvement."
Professor Fergus Lowe, Chairman of Food Dudes explained: "The Food Dudes is designed to prevent childhood obesity, one of the most serious public health issues of our time and has a wealth of evidence showing its effectiveness in helping children make healthy food choices."
By the time they leave primary school, more than a third of all children in the North West of England are overweight or obese, contributing to many chronic and life-threatening diseases such as Type 2 diabetes and heart disease. Food Dudes is a leader in the field of obesity prevention and their programmes are founded on a wealth of evidence from several countries.
Publication date: 20 December 2013