German and Danish partners visit Bangor
This month, we have been pleased to welcome colleagues from two of our partner institutions.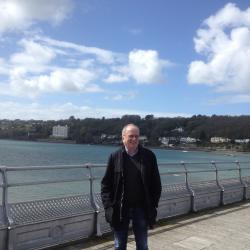 Professor Gerhard Riemann takes a stroll on Bangor Pier
Professor Gerhard Riemann, Georg Simon Ohm University of Applied Sciences, Nuremberg, is an international expert in the field of biographical research. During his visit, he presented a training workshop to staff and postgraduate students on the use of biographical data in research interviews.
Professor Riemann is also an Honorary Senior Research Fellow in the School of Social Sciences.
Shortly afterwards, we were visited by Professor Jacob Magnussen of Metropolitan University, Copenhagen, who taught second year students about the Danish welfare state.
The School of Social Sciences shares a strong Erasmus staff and student exchange programme with partners in Copenhagen and Nuremberg.
Third year student Erika Hayton is currently undertaking an international year abroad in Copenhagen; while Danish student Camilla Larsen studies with us this semester.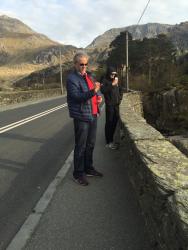 Professor Jacob Magnussen photographs the local scenery
Publication date: 24 May 2016