Gold standard accreditation for University Archives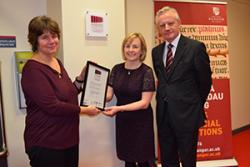 Sarah Horton of the Museums Archives and Libraries Division of the Welsh Government presents the accreditation certificate to Elen Wyn Simpson in the presence of University Vice-Chancellor Prof John G Hughes.An accreditation accepted as the 'gold standard' in archive management has been awarded to Bangor University's Archives and Special Collections. The University Archive was among 11 new applicants to achieve The National Archives Archive Accreditation, to become one of the 62 accredited archives in the UK.
Elen Simpson, Head of Archives and Special Collection's said:
"We were eager to achieve accreditation as it defines good practice and agreed standards for archive services across the UK. The accreditation also enables us to participate in a scheme supporting the ongoing development of our service against a nationally agreed standard."
Sue Hodges, Director of Libraries and Archives said:
"We are delighted that the Archives has achieved this recognition of the high standard of service provided in both safeguarding our heritage, and in ensuring that the public, students and researchers have access to the wealth of documents contained in the University's Archive. The accreditation forms part of our ongoing strategy to enhance and develop our services further to ensure that we continue to meet our customers' needs. Many congratulations are due to the Archives team who have worked very hard to attain accreditation."
The Rev Doctor Dafydd Wyn Wiliam, who has been one of the Archive's most regular users over the last 50 years said: "The staff are most deserving of the recent recognition of their very effective work in caring for the unique archive collection in their care, and for the way in which they present the information to all who seek their assistance. Well-deserved recognition indeed."
"I'd like to congratulate the Archives on receiving this Award," said Gareth Evans-Jones, a post-graduate students studying Philosophy and Religion. "I have spent hours poring through the resources in the Archives, it's certainly a valuable resource for the University. It's the Archives which makes the University such a unique place in which to study."
The Imperial War Museums, the National Meteorological Library and Archive and the Victoria and Albert Museum were also among the archives services receiving accreditation.
Publication date: 3 January 2017