Good Luck Gwen for Bryn Terfel Scholarship Competition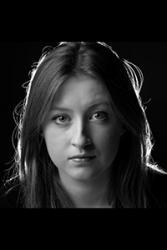 Gwen Elin, who wll be competing in the Bryn Terfel Scholarship Competition on Sunday.
A student from Bangor University is competing in the Bryn Terfel Scholarship Competition, having been shortlisted by the judging panel.
The University wishes Welsh and Theatre & Media Studies student, Gwen Elin the best of luck for the Competition.
Gwen was selected for the competition following her performance at the national Urdd Eisteddfod, where she came third in the Solo song from a Musical competition. This year, a panel of judges selected a Short list for the Competition from among those competing in nine major music competitions at the Urdd Eisteddfod.
Twenty year old Gwen is a former actress on the popular Welsh youth soap, 'Rownd a Rownd'. The former Ysgol David Hughes pupil from Benllech, Ynys Môn is a member of the Ynys Môn Urdd 'aelwyd' or branch, a member of Theatr Fach and Dawnswyr Bro Cefni, and a former member of the Anglesey Youth Theatre and Anglesey Youth Choir.
Gwen's therefore an 'old hand' when it comes to performing and competing. She has been singing, acting, reciting and clog dancing in Eisteddfodau and competitions since the age of five. She is currently also receiving tuition from Mary Lloyd Davies at the William Mathias Centre in Caernarfon. Her aim is to follow a career in n musical theatre or theatre.
Gwen said: "I'm very excited about the Competition and grateful to be able to share the stage with such talented."
The Competition takes place in the Miners' Institute, Blackwood on Sunday 25 October and will be televised on S4C (19.00 & 22.00). In addition to the prestige of winning the Competition, the Scholarship winner receives £4,000 to invest in furthering their talents and their career.
Gwen chose to study at Bangor University as she'd heard high praise of the School of Welsh, and as she felt at home when visiting the University.
She said: "The lecturers are all more than happy to help and the resources are all here."
Dr Manon Wyn Williams, Coleg Cymraeg Cenedlaethol Scripting Lecturer at the University's School of Welsh said:
"We wish Gwen Elin the best of luck for the Bryn Terfel Scholarship Competition. Throughout the years, the School of Welsh has nurtured renowned actors and singers such as John Ogwen, Caryl Parry Jones, Arwel Gruffydd or Ffion Dafis. Gwen is in a great position to follow in their footsteps and we wish her the best!"
Publication date: 19 October 2015