Great British Food Revival looks at Bangor University research to safeguard sea trout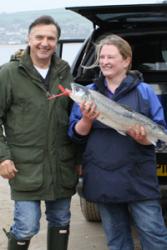 Dr Carys Ann Davies of Bangor University's School of Ocean Sciences takes part in the new series of the Great British Food Revival series on BBC 2, which began on Wednesday 10th October at 8pm.
The new series of this popular food programme has themed programmes. Dr Davies met with Michelin start chef Raymond Blanc to discuss sea trout for an episode that will be aired on Wednesday 24th October.
She said: "It was great fun working with the programme makers and I'm looking forward to seeing the final program. Raymond was very interested in the Celtic Sea Trout Project and offered one or two recipes to try out."
Dr Davies is a Research Officer on the Celtic Sea Trout Project a multi million euro project at Bangor University's School of Ocean Sciences, working with other bodies in Britain and Ireland. The research project investigates sea trout in freshwater and marine environments around the entire Irish Sea. (www.celticseatrout.com)
Sea trout, also called sewin in Wales, are an important fish for commercial and recreational fishing in Wales- and of course the recreational fishing brings vital tourism spend to rural Wales.
But catches have been declining and the fish caught smaller. The sewin is an enigmatic fish-not a great deal is known about its life at sea, other than that it returns to spawn in its native river.
With the ultimate aim of safeguarding this important fish species, the major research project led by Bangor University aims to understand more about the habits and habitat of this important resource.


Publication date: 22 October 2012